Safety first
City of Eudora adopts new security measures with cards, gates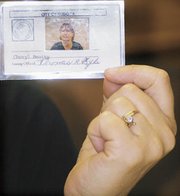 With several new measures in place, residents can now feel a little more secure about the city and its employees.
Last week, 45 city employees were issued laminated identification cards.
The cards contain a picture of the employee, statistics such as height and weight, the city seal and the signature of Eudora Mayor Tom Pyle.
"It's not that we don't trust our employees or anything like that. It's that it's a necessity," Pyle said.
The cards are part of the city's response to Federal Emergency Management Agency's requirements to have a security plan in case of disaster. The city also has secured fences and gates around its public works and wastewater treatment plant facilities as part of the FEMA mandate.
The cards serve a dual purpose, Eudora City Administrator Cheryl Beatty said.
One function of the cards is to give citizens a way of assuring city employees are who they say they are, Beatty said.
"If people want to make sure they have a city employee at the door they can ask for a card," Beatty said.
The cards also help the city provide a way to establish secure perimeter should the area be hit by a natural disaster, Beatty said.
If a disaster, such as a tornado, struck city employees would have to have both their identification cards and be on a list to be given access to the scene, Beatty said.
In that way the cards improve both the city's day-to-day security and security during a disaster, Beatty said.
In addition to the plan, FEMA helped supply $45,000 for fencing around the city's wastewater treatment plant. The city contributed $5,000 to the project.
"We needed that around the entire facility," Beatty said.
The public works department is now protected by an electronic lock and intercom system.
The treatment plant also has a new locked gate, Beatty said.
Even with the new gates, the city had found one instance of a perpetrator getting inside the compound and stealing copper wire, Beatty said.
City officials also have added several training sessions to protect employees,
The first helped teach employees to be more aware of their surroundings, Beatty said.
Later in the year, the city plans to run a mock-bomb scare, Beatty said.
Eudora City Police Chief Greg Dahlem said he was confident about the new measures.
"There's going to be chaos no matter what," Dahlem said. "This is going to hold the chaos down."
Both police department Secretary Andrea Holsted and public works secretary Debbie Eaton put the badges together.
"It probably should have been done a long time ago," Dahlem said.