County service offers senior citizens freedom
Retirement didn't sit well at first with Clark Goodwin.
The former Trans World Airlines machinist moved to Lawrence six years ago and found he had more time on his hands than what he knew what to do with.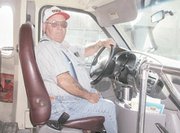 "You go crazy really," Goodwin said.
He decided to find a job to keep himself busy. So, he traded his mechanic's tools for a seat on a bus.
Goodwin works for the Douglas County Senior Services' transportation program. He drives a bus in the county from 8 a.m. to 5 p.m. Monday through Thursday. He picks up senior citizens throughout the area, including Eudora, and drives them to places they need to go.
"They don't have to ask their kids to do it," Godwin said. "They get some independence."
He normally spends from 9 a.m. until noon Mondays and Thursdays in Eudora.
"We get to help a lot of people," Goodwin said. "We really do."
Normally, he starts his route at the Pinecrest II Apartments complex. Depending on where the residents need to go, he drives riders anywhere from the banks on Main Street to C&S Market or Byrne's Pharmacy.
He even drives residents farther if necessary.
"Lots of times, they want to come into Lawrence on Thursdays," program manager Dorothy Resco said.
The service first formed in 1973 as a way to help county residents 60 or older stay independent. It's based at the Lawrence Senior Center and is partially funded through county, state and federal taxes.
"The transportation program was one of the first things started when the senior center organized," Resco said.
In addition to Eudora, the program runs routes in Baldwin, Lawrence and Lecompton.
"We get real good feedback from our clients because we pick them up at their door and we take them where they need to go and we take them back home," Resco said.
The service originally ran in Eudora all four days, but had to scale back to two, Resco said.
"Hopefully, when we get some new equipment we can go back to running a full schedule for Eudora again," she said.
Goodwin's bus is equipped with a lift so he is able to serve riders with wheelchairs or with special needs. The lift has also been used to help riders who can't handle the stairs leading into the bus, he said.
"We've got a good service," Goodwin said.
Goodwin said his job had given him ample time to know his clients.
That fact has also been a downside to the job, he said. He's seen a lot of his riders come and go because of their age, he said.
"That's the hard part," he said.
Goodwin said he felt good when he heads home every day because he had the opportunity to help people.
"I'd like to have more people in Eudora take advantage of it," he said. "I think they just need to know it's there."
The service suggests a donation of $1 for each ride.
For more information or to inquire about the bus schedule, call the senior center at 842-0543.
More like this story