Initial enrollment numbers cause no surprise
Through-the-door enrollment during the first week of classes at Eudora schools appears to be about what Eudora USD 491 officials predicted.
The district released a statement Thursday pegging enrollment throughout the district at 1,411 students. The number shows an increase of 28 students from a total of 1,383 students from the 2006-2007 school year.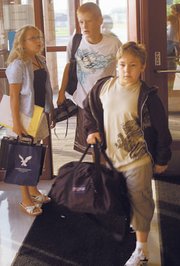 District officials predicted a jump of about 35 students for the 2007-2008 school year.
"I think it's pretty much right on," Eudora Schools Superintendent Marty Kobza said.
Thursday's numbers are still preliminary. Official numbers for the purposes of state funding will be sent Sept. 20 to the Kansas Department of Education.
"Districtwide, I think maybe we've seen growth in some of the upper classes that maybe we didn't expect," Kobza said.
District officials are still monitoring enrollment, Kobza said.
According to a district press release, Eudora High School's enrollment remained steady at 407 students.
Nottingham Elementary School showed a through-the-door enrollment of 372 for the kindergarten through second grade. The total might rise higher in the next few weeks because the district's pre-kindergarten program is still in a screening phase.
Preliminary numbers show Eudora West Elementary with a total of 302 third-graders through fifth-graders.
Eudora Middle School seems to be up four students from last year's audited head count with an early through-the-door total of 330 sixth-, seventh-, and eighth-graders.
The district has 407 high school students this year, which is the same as its audited headcount from last year.
The preliminary numbers don't include out-of-district enrollment at the Eudora/De Soto Technical Education Center.
Kobza said he expected a further spike in enrollment in the coming weeks.
"It just seems like we get another little rush right after Labor Day," he said.
Kobza said one of the biggest values gained by studying the preliminary numbers is that it verifies the work done by the district's growth planning consultants, RSP & Associates LLC.
"I think it's important to verify the fact that the estimates being provided from RSP to us are accurate," Kobza said. "Because in so many ways it determines how many personnel we need to hire, and how many teachers we need to keep the class sizes at the level we want."
In addition to providing clues as to hiring needs, the numbers also help the district determine future budgeting requirements for utilities and salaries, Kobza said.
The totals also contribute to how the district plans for facilities and growth, he said.
"If we continue to be as accurate as we appear to on our projects, then it just reinforces the need for the facilities that are being proposed."
The district has set a Nov. 6 vote for a $45 million bond referendum, which includes a new elementary school as well as improvements to existing buildings.
More like this story