Twin-tacular
Brothers look for big senior season
They actually don't look as much alike as they used to.
Eudora senior soccer mavericks Connor and Logan Hartpence have ruled the high school field together since they arrived as freshmen. For the first three years, they set themselves apart from the pack with aggressive, fast and skillful play. They set themselves apart from each other with different colored headbands -- blue for the calmer, quieter head of Logan and red for the fire and finesse of offensive-minded Connor.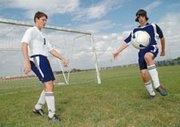 Their trademark was their hair, though. Long and dark, only the headbands kept it tame as they raced from end to end during a match. But with Connor now sporting a trimmed style and Logan carrying on with the longer locks and the distinctive headband, they don't look as much alike.
Until they play.
The same bond that made Eudora's soccer-playing twins so special on the field carries on, hair or not.
"It's pretty awesome," Logan said. "We know what we are going to do without ever saying to each other what we are going to do. We can tell what we are going to do. Without even looking at each other, we know where the other one is without even looking."
The twins, part of the soccer program's massive, talented and soccer-obsessed senior class, may no longer share every detail of their looks, but they still share a similar dream for their senior season. They've been a part of the building of the Eudora program, preparing now to play in their fourth season and the team's sixth.
For the most part, that means they've seen the bad times. Despite standing out themselves, the Hartpences and the Cardinals haven't done a whole lot of winning, grabbing two games a year ago and winning a program-best three last season. They'd like nothing more than to change that in the last go around, however.
"I'm really looking forward to having a team that has been together for a long time," Connor said. "If we happen to not have a winning season, we don't want it to have a repeat of the last couple of years, which I don't think will happen."
If things are to turnaround, the Hartpences will need to be right in the middle of it. Connor was one of the team leaders with five goals last year, but both of the brothers figure to get into the scoring in 2007.
Their greatest tool, they said, isn't their speed, their toughness or their hard-earned soccer smarts. Nope. It's each other.
"When you start thinking about twins, you start thinking about how much they are the same," Eudora soccer coach Gunar Harmon said. "The advantage to them is that one is a lefty and the other is a righty and that works out really well. They chose different sides and they've got a relationship that works to our advantage in trying to keep them together on the field.
"Just even watching them walk up to practice, they are pretty much different. One's got the hair, one's got the attitude -- and it works well."