Results of low-cost improvements made at West Elementary could be priceless
The $45 million school bond that passed Nov. 6 had some big-ticket items that will change the face of the Eudora School District. For instance, the new elementary school will cost $27 million; a new auditorium and additional science classrooms will cost $7 million; and a new district stadium will cost $3 million.
At the bottom of the list was the approximately $380,000 in upgrades to be made to West Elementary School in order to turn it into an early learning center, housing kindergarten classes as well as pre-kindergarten preparation programs.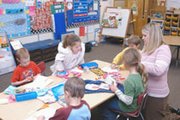 "It's a project that basically would put a bathroom between each classroom," Assistant Superintendent of Schools, Curriculum and Instruction Don Grosdidier said. "They (kindergartners) can't go down the hall by themselves like an older elementary student could, so that's why we've planned for that and made that accommodation to this building."
Though the upgrades at West will be the least costly of any of the projects, the programs within it could change the socio-economic face of Eudora far more than a new stadium or auditorium ever could.
Grosdidier cited a report called "The Perry Preschool Study," which is a 40-year study that looked at groups of kids in Ypsilanti, Mich. who had preschool opportunities and found they had lower incidences of crime, alcoholism, drug abuse and health care issues.
More importantly, the study found that every $1 invested in early learning equals a $17 savings in the future because of state and federally funded programs that will not be needed.
"We spend incredible amounts of money on the fact that we did not get early childhood brain development right in the beginning," said Rich Mender, collaborative projects coordinator for Douglas County Success By 6, said.
Grosdidier has been working with Success By 6, which is a coalition that includes the United Way of Douglas County and the Lawrence-Douglas County Health Department, to create a pre-kindergarten pilot program.
"There are some very high quality family childcare homes in Eudora now, but I think overall there's going to be a growing need for high quality early learning programs," Mender said. "Don (Grosdidier) and Eudora recognize that and they're taking the steps."
The school district's goal is to bring in three early-learning programs -- Head Start, Parents As Teachers and Early Head Start-- along with its own Preschool Enhancement Program, which already is housed at Nottingham Elementary School.
Both Head Start programs, which are federally funded, seek to provide children from economically disadvantaged backgrounds the skills needed to succeed in school and are based on the economic child development knowledge and is funded by the private and public sectors.
"Part of our goal with this project is to provide good preschool services and good parent education services to the neediest people in the community -- the people that at this point in time seem to be kind of left out," Grosdidier said.
The school district will meet with Head Start this month to look at the facilities at West.
"They have identified Eudora within their strategic plan as an underserved area," Grosdidier said.
The presence of three entities all under one roof will allow all of them the ability to get the most out of the funding that is provided.
"It could be a complicated thing to do to set this whole thing up, but it's really what the state of Kansas has stated is what they'd like to see," Grosdidier said. "And by doing it this way, you're insuring that you can maximize every single dollar and resource."
Staffing and administration issues still are being worked out, as the genesis for the program occurred when the school district was deciding what would happen to Nottingham and West if the bond passed.
"If the bond failed it was going nowhere, so we're hammering out the details right now," Grosdidier said.
Comparable early learning centers exist in Hays and Salina, and Grosdidier said they were created as a result of a push by the state of Kansas to promote early learning and quality childcare initiatives.
"A lot of it has to do with research that's been done on brain architecture and the timing of how brain develops and the need for stimulation," he said. "We're not talking about putting kids behind desks and throwing a textbook at them to teach them to read at 3 or 4, but just doing things that stimulate their brain growth."
He said just making faces at an infant and waiting for it to mimic, a practice called "serve and return," is a critical part of developing a child's brain.
"It really is very simple in that it's not advanced mathematics, but it's very difficult in the sense that creating environments where children's brain development is optimized in healthy social and emotional environments -- that's not easy," Mender said,
Mender and Success by 6 also are firm believers in the importance of early brain development and educating families about the importance of it.
"Our approach is one of supporting families in raising their children, and early childhood care and education is a big part of what most families today need to successfully parent their children because of how we work and live," he said.
Mender said the view of preschool as childcare has oversimplified the importance of what occurs socially and cognitively in such an environment.
"One of the things that we know from early childhood research -- and this is really important to include in any discussion of how we as a community and a state invest in early learning -- is that 90 percent of the brain develops in the first five years of life, and there is not a dichotomy between cognitive development and social and emotional development," he said. "These are not mutually exclusive categories.
"If children are going to succeed academically, they need to be in -- from the very beginning -- environments at home and outside the home that are safe, secure, nurturing and enriching in how they develop social and emotional learning; those are the keys to good cognitive and later academic success. So, there are a lot of kids that are entering school not ready to learn, and it doesn't have anything to do with not knowing their letters and their numbers."
Mender said early education programs such as the ones that Eudora hopes to have at West will help everyone involved.
"It would be a good thing for working families, schools and kids, mostly," he said.