Curveball
Love of baseball helps Eudora teen continue pursuit of life-long dreams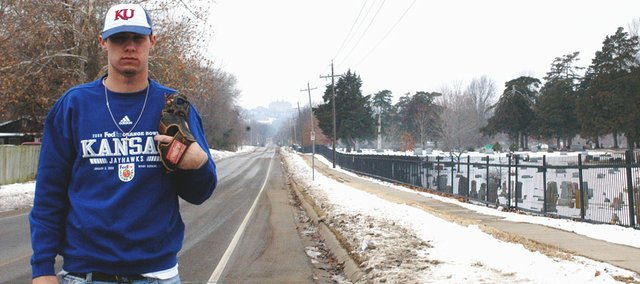 Few sports elicit romantic outpourings like baseball - Kevin Costner has made a career professing his love for the leather and the rawhide, the dirt and the grass - but for so many others, the command "go" is all that is needed to trigger an outpouring of testimony.
Kelson Boyer is no different. He loves the game, too. It's because of that love that he wasn't derailed from his dream, because of that love his life wasn't mangled and his future flattened.
Kelson Boyer still loves baseball, and he said every day he's learning to be a better person for it.
Boyer didn't realize his ultimate goal earlier this month when he signed with Kansas University on a full-ride baseball scholarship. That day may come in the future, in a stadium - no disrespect to KU's Hoglund Ballpark - far larger than the Eudora teen figures to play in anytime soon.
Reaffirming his verbal commitment to the Jayhawks was still a major step, however. It was a goal that became realistic nearly three years ago when a then-lanky freshman started to find a little extra mustard when he reeled back to deliver a pitch.
"It's a lot like realizing a dream. I've wanted to play (NCAA) division one baseball since I can remember," Boyer said. "At the end of my freshman year I just started to throw a lot harder, and I had good accuracy. My control was really good.
"I just got stronger and started throwing harder. It was almost like I was taking something."
He wasn't - it was just puberty that was kind to the budding star.
By the time he returned to Eudora High School for his sophomore season, Boyer was ready to open up his marvelous right arm like he had never before.
He helped lead the Cardinals that season. Eudora went undefeated through most of the regular season and advanced all the way to the Class 4A state championship game before losing a second game.
Boyer was tested the whole way, and he did nothing but answer and impress, dazzling his way through the season as his senior-heavy team won the Frontier League and swept into the state tournament.
"It was hard for me not to move him up after his freshman year, but I was lucky enough to have enough pitching at the varsity level and I thought him playing at the level he was at was good for him," then-Eudora coach Dirk Kinney said. "I threw him to the horses his first game his sophomore year. I wanted to test him to see where he was at. That was going to tell me a lot.
"He threw a shutout. He was outstanding."
The state championship game was a disaster, not just for Boyer but for the team. Eudora lost to Bishop Ward 16-3 and Boyer, pitching in relief in the third inning, faced 10 batters, gave up six hits and seven earned runs in 2/3 of an inning.
That did little to taint the fantastic season, however. Boyer finished the year 9-0, and he entered the final tournament with an earned run average of .77. He barely nudged it upward in a brilliant opening round performance where he beat Wellington, giving up one earned run and six hits in seven innings.
"He worked hard - he did work really hard as a sophomore," Kinney said. "He did everything a coach could ask. His sophomore year, he was outstanding."
91 mph fastball
That Boyer can pitch is simple physics. He has the long, tall and skinny frame of some of Major League Baseball's best, and he has the attitude - a bit of arrogance on the mound, he admitted last spring - to dominate opponents.
He does it with a stifling fastball, a blazer that whistles toward a radar gun at 91 miles per hour. With the right training and the right attitude in the next several years, it could max out around 95, Kinney said.
"He's at 91 as a 17-year-old high school kid, so if he works hard and does what he's supposed to, he could top out at 95 or 96. He controls his own destiny," Kinney said.
More than the fastball, though, it's the changeup.
It's hard to count the number of teenagers who can brush 90 miles per hour on a radar gun. It's not hard to count the number who can fool a batter in swinging for that raw heat when the ball is really only plodding forward.
The fastball makes Boyer a potential collegiate pitcher. The changeup makes him a legitimate collegiate pitcher.
"It's what you have for off-speed that's going to make you better. His changeup is one of the best high school changeups in the nation," Kinney said. "On the other hand, his curveball and slider need a lot of work.
"He's got a great frame. He's got electric stuff. He's got two plus pitches being his fastball and his changeup. His curveball still needs work, but he understands that."
Hard lesson
Entering his junior season, Boyer was to be the team's horse - its ace and the card the team needed if it was to return to state.
But things went wrong. Boyer's story of the achievement of his division one dreams isn't the same without acknowledging how close he came to throwing it all away.
He first was suspended from Eudora sports at the end of last winter's basketball season, a five-game suspension that kept the team leader on the bench. He drew the suspension after receiving a minor in possession ticket for - as he said - being at a party where alcohol was being consumed.
He was suspended again weeks later, this time from all high school athletic activities in the state. The suspension is in place for a whole year. He was cited for minor in consumption after having drank before attending the annual after-prom celebration.
"It was stupid," Boyer acknowledged. "Everything about it matured me.
"You never really think about (needing to mature) unless you do something stupid. But over time, the way everything's gone, I've realized it."
Boyer opted to play his senior season at Lawrence's Free State High School where he'll still be required to serve out the same suspension. Leaving the district where he attended class every year since kindergarten wasn't easy, he said, but it was a part of his choice to move on with his life and to refocus on his long-term dreams.
"I left for two reasons. The people were just acting so much different toward me," said Boyer, who has split time between living in his Eudora home and with his grandparents, who live near Free State. "The other reason was so I could play baseball."
Boyer said the whole ordeal has taught him so much, and cost him plenty even though he still signed with KU.
Boyer credited Kinney, now the pitching coach at Ouachita Baptist University in Arkansas, for doing more to help his baseball career than anyone else. He also helped Boyer through the dark days right after the suspension came down.
Still, it's among those relationships that have never quite been the same - one that may never be.
"We are always going to be close," Boyer said. "I have a lot of love for Coach Kinney. He's someone I've always been able to talk to and he helped me out with baseball more than anyone.
"He's not as cool to me as he used to be, and he shouldn't be because of what I did. Still, he took me out the next day, and we had talked and he has said 'everything's going to be alright.'"
Everything has turned out all right, Boyer said. He still gets the cold shoulder sometimes in town, but he said he's grown in a way he never expected he could or knew he had to.
KU's baseball staff was quick to learn about the trouble, but also quick to believe that in Boyer, they had a teenager who made a mistake - that they had a powerful right arm with a fastball and a changeup and all the potential in the world waiting to be unlocked.
It's no guarantee Boyer will realize his ultimate dream to play baseball for a living.
They could be realized soon - he'll travel to Texas over the summer to work out for scouts and he has the potential to get drafted. If that goes well and he's drafted high, Boyer said the money might be impossible to ignore.
He also understands those dreams could never be realized.
More mistakes could ruin everything. The wrong attitude on the mound could change him as a pitcher. The wrong prerogative on working out could leave him at a plateau, maxing out as a college pitcher with a nice fastball and a good changeup.
"I hope he has (learned,)" Kinney said. "I can't answer that until after he's done playing the game of baseball : There's a lot of guys who throw 91, but it's the guys who put in the time and bust their tail that get to play at the professional level.
"That's totally up to him. It matters how hard he works."
Maybe that will all come easier now. There have been so many lessons in the last nine months and in the last four years, but only one that indicates Boyer is still on course to reach the height of his potential - one lesson he can't afford to forget or waiver on.
Boyer's learned now, more than ever, that he loves baseball.