Cardinals dig in for regionals
Meyers shines in final regional tournament tune-up
The Eudora wrestling team made its presence felt in a big way at the Frontier League tournament, placing nine wrestlers and one league champion Saturday in Louisburg. But considering how the rest of the season has gone, nothing less was to be expected, Cardinal coach Bill DeWitt said.
"We had a few surprise finalists, like Matt McPeek and Kyle Scrimsher," DeWitt said. "We had a lot of guys come through the back door. If I had my full lineup, we'd have had a pretty good chance of winning league.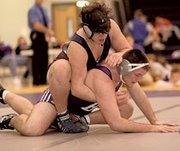 "For what we took, we did well."
David Westerhouse finished in sixth place at 152 pounds. Jackson Wiley came in fifth in the 112-pound class. Chase Rust also finished in fifth place at 171 pounds and Michael Whitten wrestled his way to fourth place at 145 pounds. Coming in third were Jake Love in the 160-pound class and Travis Clarke at 130 pounds. McPeek at 140 pounds, Scrimsher at 145 pounds and Tim Durkin at 215 pounds each made it to the final match and finished in second place.
Evan Meyers stole the tournament, however. Wrestling at 189 pounds, Meyers racked up four straight pins en route to the league championship title. The first-place victory also marked Meyers' first-ever league medal.
Last year, Meyers wrestled at 215 pounds, with current 215-pound wrestler Durkin at 189 pounds. DeWitt said Meyers was significantly lighter than most of the other guys in his class last year, which made it tough for him sometimes. Dewitt said Meyers has finally found his niche in the 189-pound field after having endured an up-and-down season.
"Now he's at 189 pounds, and it took a while for him to realize he's no longer the underdog," DeWitt said. "Now he's accepted the role as being the top dog. He was the one seed (in league), and he looked at the bracket. He just took care of business."
Although DeWitt said the Frontier League tournament was important, it was not nearly as important as Friday and Saturday's regional tournament in Baldwin. Because of the state tournament implications involved with regionals, DeWitt said he wanted to ensure all of his wrestlers were healthy by then. Because of that, he decided not to wrestle Cody Salzman in league, who picked up some minor injuries at last week's successful dual against Paola. Also missing from the tournament were Loni Ogden, who was taking the ACT test, and Richard Wilks, who was sick.
DeWitt said it was extremely important for all of his wrestlers to be healthy and mentally prepared for regionals.
"They have an opportunity to extend the season a little longer," DeWitt said. "The goal is to get to the state tournament. You have to leave everything on the mat. We just have to emphasize that the season ends how we want it to end.
"We're going to show up and wrestle hard."
DeWitt said the battle at regionals would not be easy. But he said if the successful season had taught him anything, it was that the team was comprised of hard-fighting individuals who were in it to win.
"We'll be as healthy as we have been since break," DeWitt said. "We're good, and we practiced hard. We just have to show up and wrestle and win.
"We're not going to apologize to anyone. We don't have to win pretty or ugly -- we just have to win."