Donations sought for time capsule
What difference can half a century make?
Members of the Eudora Sesquicentennial Committee want to give the city the opportunity to find out. But to do so, the group needs help.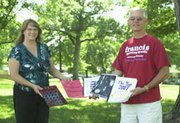 Sesquicentennial Committee member Tom Tucker organized a group of people throughout the community to be in charge of gathering items for a time capsule. The capsule will be buried in CPA Park Oct.6 during the city's 150th anniversary party. The burial will happen after the unveiling of a statue of the town's namesake, Eudora Fish, and will be excavated in 2057.
"We want to have a lot of fun with this," Tucker said.
In the spirit of fun and to spread awareness about the project, the sesquicentennial committee posted a challenge.
Whoever comes closest to guessing Eudora's population in 50 years will win $75 in gold coins. A second-place winner will get $50 and a third-place winner will receive $25.
All three local banks, Kaw Valley State Bank, Douglas County Bank and the Mutual Savings Association, have donated money to the contest, Tucker said.
The winners will be announced when the capsule is excavated.
The group members already have been hard at work gathering items for posterity.
"We have a targeted committee really, so we can try and get the whole community involved," Tucker said. "That's what our goal is anyway."
Rumsey-Yost Funeral Home donated the vault, and Warren-McElwain Mortuary donated a granite marker to identify the capsule's place.
Although the capsule is secured, there's plenty of room in the vault left to be filled.
Eudora High School math teacher Bonnie Daigh has worked with teachers in Eudora USD 491 to donate items.
The committee has been specifically focusing on the district and students, Tucker said.
"They will be the ones that will have most fun with it 50 years," he said.
So far, Daigh has collected pieces including the school newspaper, the high school graduation program, and letters from students. Eudora West Elementary School third-grade teacher Denise Kendall organized a book of observations on modern Eudora by this year's third-grade class.
"One of the things that shows up a lot in this book is our new pool. It's obvious the kids are excited about it," Daigh said.
The students wrote about their favorite places in town, what books they're reading and what music they're listening too. It's basically a cultural slice-of-life from their point of view, she said.
"It's a pretty awesome book," Daigh said.
The committee will spread across the community gathering other items such as restaurant menus, business cards and other items that could identify the Eudora of today, Tucker said.
The group hopes draw items from individuals.
The submissions could be as simple as a letter to future family members or personal mementos.
"Some of the fun stuff would be a favorite family recipe, family photos," Tucker said. "Some things we're really wanting to go after are church directories and civic group memberships."
There are limitations to what can go in the capsule. The committee won't accept items with high acid contents or any liquid submission, Tucker said. Basically, the group wants to stay away from any items that might damage the capsule, Tucker said.
"There is a screening process," Tucker said.
The items must be able to fit in a 9-inch by 12-inch envelope.
"That way it will give us some consistency," Tucker said. "It's a little easier to file, a little easier to record."
Each envelope will be documented and labeled, Tucker said.
The committee will have table at the annual CPA picnic July 26-28. The group will be selling envelopes, taking guesses for the population contest and collecting items for the capsule.
"I can see my own children enjoying looking at items in a time capsule and I'm assuming that interest will still be around 50 year form now and school children will get to see what interested our students today," Daigh said.