Athletic Abel helps all around all year
Ask Eudora baseball head coach Dirk Kinney about Matthew Abel and he has a laundry list of attributes at the ready, all of them positive.
"Matthew plays the game the right way, he gives 100 percent all the time, and he's a lot of fun to watch," Kinney said.
Most coaches would not hesitate to shower such praise on a gifted player. The next few items on Kinney's list of compliments ring a little more meaningful, however:
"He's a well-rounded individual," Kinney said. "He respects the game and the people around him. He's the kind of kid every coach wants on the team."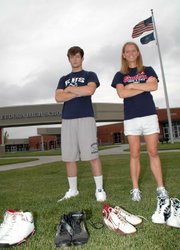 Throughout the 2006-2007 school year, Abel was happy to oblige, combining a successful baseball season with a brilliant football campaign, and adding a solid basketball cherry to push him to the top.
It wasn't the performance in any one sport that separated Abel, it was the performance in all of them, and for that he was selected as The Eudora News' first male athlete of the year.
The self-described quiet leader put in the extra hours to ensure success through three different athletic seasons.
The schedule of a high school athlete is often hectic. The pressures of school, athletics and social life present a challenge for athletes who focus on just one sport. Throw in two more sports and there is not much blank space left on the calendar.
That crowded calendar is Abel's everyday life. Summer-league baseball games, camps and weightlifting sessions dominate the summer months. Autumn brings football, winter is spent playing basketball and spring marks the beginning of baseball season.
"I have to make sure I keep up with all three," Abel said. "For football I lift weights constantly. For basketball, I try to work on my form. For baseball, I always practice my hitting."
During the school year each sport is separated by a few days. The downtime allows for some much needed rest, but Abel said there is not enough time to find a part-time job.
In 2007, Abel was as successful as he was busy.
Abel's versatility was most apparent on the football field. The All-Frontier League selection helped the Cardinals to an 11-1 record and a deep run into the playoffs by playing multiple positions.
The 162-pound junior's speed and leaping ability made him a three-way threat: he contributed on offense, defense and special teams.
As a receiver, Abel led Eudora with 818 yards. On the other side of the ball he intercepted three passes and made 28 tackles to neutralize opposing receivers from the cornerback position. As an added bonus, he scored two touchdowns on punt and kick returns.
Though he impressed individually on the football field, his fondest memory is not of a spectacular touchdown or interception.
"The whole football season was special," Abel said. "The way we came together and rallied made it a great experience for all of us."
Though Abel admitted basketball is not his strongest sport, he did not disappoint on the hardwood in 2007. The 5'10" guard played the role of floor general for the 11-10 squad, scoring nine points per game and leading the Cardinals in assists. Not the tallest or most gifted offensive player, he more than made up for his 36-percent shooting with a team-high two steals per game.
In March, Abel took his athleticism from the gymnasium to the green grass of the baseball diamond. The centerfielder, who has enjoyed baseball since the age of four, served as the spark plug for the Cardinals, who finished 12-6.
"Matthew was huge for us all year," Kinney said. "He set the tone. We knew if he could get on base it would be an automatic double or triple."
The statistics support Kinney's point. Abel reached base safely 57 percent of the time in 2007. As soon as he arrived at one base, it seemed like he was moving to the next. He wreaked havoc on opposing defenses with 22 stolen bases. Kinney said the most exciting moment of the year was Abel's 270-foot sprint from first base to home plate when a teammate hit a single into centerfield.
With one more year remaining to make his mark as a Eudora Cardinal, Abel said he has a hard time looking past high school, but his options are open for 2008 and beyond.
"I want to go to college and continue to play," Abel said. "I love sports and want to keep playing as long as I can."
He said he has compiled a tape of football highlights to send to prospective schools and has made an unofficial visit to Missouri for baseball.
Abel's play under the bright lights of the football field, basketball court and baseball diamond earned him touchdowns, assists and stolen bases. It was the work necessary to succeed in all three sports that earned him recognition as the 2007 Eudora News Male Athlete of the Year.