Nikki Snider is passionate about sports. A short conversation with the soon-to-be senior is all it takes to arrive at that conclusion. When talking sports, Snider speaks in excited tones, whether she is guaranteeing Eudora volleyball's return to the state tournament or discussing early morning practices.
But it is the disappointment in her voice that speaks the loudest. When Snider laments her decision to skip last year's basketball season, her passion is evident in the disappointment her words carry.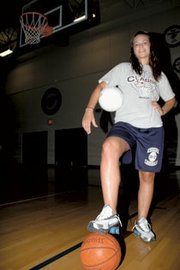 "A little while after I decided to quit, I found out I really missed basketball," Snider said. "I wanted to come back, but I was afraid I would miss out on volleyball."
Last year, Snider made the choice to cut basketball from her schedule in order to dedicate more time to volleyball. She felt the change was necessary in order to devote extra time and energy to her club volleyball team, which plays games during the winter months she normally set aside for basketball.
Club volleyball offers definite perks: players can gain valuable experience and more exposure to colleges. The additional visibility can often lead to scholarship offers from schools that did not have a chance to see the player during her high school season.
Snider said the extra time on the volleyball court helped to polish her game and garner attention from colleges.
"I got a lot more attention since I was able to be at every club game and tournament," Snider said. "I was able to focus a lot more and develop a few more skills."

Snider's plight is not uncommon among high school athletes. At small schools across the nation where the pools of athletic talent can be shallow, young athletes often participate in multiple sports.
Justin Ingram sees cases similar to Snider's frequently. The recruiting director for Kansas State University's volleyball program said most of the players on the Wildcat roster were multi-sport athletes at one point during their high school careers. The players were forced to drop their additional sports to focus on volleyball in order to be noticed by prestigious programs.
Ingram said participation in multiple sports could be the perfect fit for the average student but usually out of the question for a young player intent on earning a scholarship to play at a Division 1 school.
"Players can maximize their skills and have more options for college by dedicating themselves to one sport," Ingram said. "If you try too many different things, you won't be great at one thing, you'll be average at two things."
Since stepping away from basketball and focusing her energy on volleyball, Snider has received interest from colleges located everywhere from New Mexico to Rhode Island and invitations to multiple volleyball camps.
Once an athlete arrives on a college campus, playing more than one sport is basically out of the question because of the immense pressure and time constraints collegiate athletes face.
"A lot of the time players spread themselves too thin," Ingram said. "Someone who tries to play two sports will have their performance hindered."

Multi-sport success stories may be few and far between, but the career of Natalie Williams stands as an example of a two-sport star who blossomed.
In 1991, Williams won the NCAA Most Outstanding Player Award in volleyball as a student at UCLA. After college, Williams played professional basketball for 10 seasons and won an Olympic Gold Medal for basketball in 2000.
Snider decided to follow the precedent set by two-sport phenoms like Williams. Next season after Eudora's volleyball campaign ends, she will don a Cardinals jersey and return to the basketball court.
"I'm really looking forward to it," Snider said. "But it will be busy. Very busy."
She has already begun the balancing act between the two sports. Snider is currently playing on both basketball and volleyball summer squads, two commitments that fill her days to the brim.
Snider's decision to return to the basketball court was not motivated by potential scholarships or the possibility of playing at a high collegiate level. The move was motivated by her eagerness to fill the void that quitting basketball created.
"I just missed basketball," Snider said. "I think, personally, playing two sports is the best."
Eudora High volleyball coach Jill Stutler said Snider's volleyball skills were certainly aided by the extra attention. But she stood behind the student's decision to split time between the two sports.
"Nikki has a bright future in either sport," Stutler said. "Whatever she puts her mind to, she can accomplish."
When Nikki Snider wraps up her career at Eudora High, she may or may not have a Division 1 athletic scholarship in hand. However, her return to the basketball court ensures that she will not leave with many regrets.