Voters approve $45 million school bond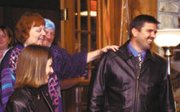 After months of forums, pamphlets and discussion, voters in Eudora USD 491 approved the $45 million school bond, 874 to 722.
Turnout in the referendum was 34.4 percent with 1,596 of 4,649 registered voters in school district casting ballots in the referendum.
Superintendent of Schools Marty Kobza said the results were a victory for both students and teachers.
"It's very exciting," he said. "The opportunities that now lie ahead for the kids of Eudora are just incredible. We're going to do some great things with technical school programs and get elementary students the facilities they need to help them overcome obstacles."
"And our teachers now can have the facilities to help them do their jobs well, rather than hinder them."
The bulk of the bond will pay for a new elementary school that will house grades first through fifth and will be located in the area of 10th Street and Peach Street at a cost of $27 million.
Bathrooms will be added to each classroom at West Elementary, where pre-kindergarten and kindergarten classes will be located at a cost of $380,000; new classrooms and a bigger lunch area will be built at Eudora Middle School at a cost of $3 million; a new 750-seat auditorium and new classrooms will be added to Eudora High School at a cost of $7 million; and a new district stadium with a capacity to seat over 4,000 spectators for events including football, track and soccer will be built on the west side of the high school at a cost of $3 million.
A new Eudora -- De Soto Technical Education Center also will be built in order to house all technological programs under one roof. Two buildings will be built for auto collision technology classes and proposed biotechnology and industrial technology programs at a cost of $3 million.
The remaining funds will be spent on technological and security upgrades, traffic and pedestrian safety and debt consolidation.
Assistant Superintendent of Schools, Curriculum and Instruction Don Grosdidier said the best thing about the array of new projects that now can be completed was how much they will appeal to all students.
"And it's going to allow us the opportunity to do some fantastic things for our kids in this community," he said. "If you look at this package, there's something in this for everyone. It creates equity within all groups."
Kobza attributed the success of the bill to the efforts of the Vote Yes For Student Success committee, which was headed by Kim Schulz and Karen Sanders.
"The time that they put in was just amazing," he said. "They went around and educated people and that was the key. They spent time talking to every individual they could contact to try to get them the facts about the bond."
Schulz saw the results as a victory for Eudora.
"I'm so proud," she said. "People worked so hard and did such an incredible job; I've never seen such commitment. The community owes those people a debt of thanks because they have changed the face of Eudora for the good."
According to Sanders, the real winners will be the students of Eudora schools.
"The repercussion of this not passing would have been really sad, but now the kids have something positive to look forward to," she said.
Enrollment in the Eudora school district has gone up 65 percent in the past 15 years and Nottingham Elementary School, which houses kindergarten through second grade and is nearly 100 students over capacity, so the construction of a new elementary school is the district's first priority.
"There's been some pre-planning and we'll put the final touches on things to get the projects ready to go out to bid in January and February," Kobza said.
The new elementary school and expansion at Eudora Middle School is scheduled to open in the fall of 2009 and the expansion at Eudora High School as well as the district stadium will be completed in the fall of 2010.