Big plans
Eudora hopes to capitalize on last year's surprising finish with a trip to state
Seniors Emily Ballock and Nikki Snider have their eyes set on one thing for the Cardinals basketball team. They want to go to the show -- the state tournament.
To them, this is the year for them to make a move into the upper tier of Kansas high school basketball.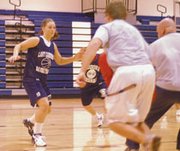 That attitude, along with the team's overall talent level has coach Ryan Luke excited.
"I'm very excited. I think the sky is the limit for this group as long as they decide to be committed, make good decisions on and off the floor and work together," Luke said. "I think there is a lot of talent -- the most talent I've ever coached."
The Cardinals lose just one player, Allison Braden, off last year's 11-12 squad. Braden was a post player who started and was important in the team's run through the sub-state tournament, but Luke said she ended up being more of a role player for the Cards.
Returning are five seniors and five juniors, all of whom contributed at the varsity level last year in some capacity.
The seniors include Ballock, Snider, Elaina Kouri, Natalie Gloshin and Amanda Schneider. There are five juniors whom Luke expects to contribute. They are Bailey Scott, Kendal Abel, Rachel Pyle, Haley Epperson and Mariah Webb.
Snider, who sat out last year to pursue her volleyball career, was awarded all-conference honors as a sophomore. Ballock received all-conference honors last year.
Last winter the Cardinals fell one win short of a state tournament berth when they fell to Tonganoxie in the sub-state final 46-34.
There will be at least a couple of chances for revenge, though, as the two teams are in two tournaments together this season. Eudora will open the season at the Paola Invitational Tournament, then play in the Tonganoxie Invitational Tournament midway through the year.
But make no mistake, a state berth is foremost among team goals.
"We have the best group of girls that has ever come through for basketball," Snider said, "and if we could do it this year, this would be the time.
The team lost eight of its last 10 regular season games last year, but caught fire at sub-state and advanced to the sub-state final.
"We finished the year on a strong note last year so we expect to win sub-state and go to state," added Ballock. "The last time we went to state as a girls team was like 17 years ago or something. That's our number one goal."
Coming into his third year as coach, Luke says this group is as deep as he's ever had.
"We've got 10 girls that can play," he said. "Looking at it that way, you could say this is my best group I've had."
For that reason, Luke said he expects to unleash a more up-tempo attack on foes this year than in years past. The lack of experience last year meant the rotation wasn't as deep, so the team was tired at times.
As for the league this year, Luke said it will be tough. He does look favorably upon the tough schedule though.
"State-type competition the whole year, that will help us," Luke said. "You look at those teams, you can't point to any one opponent and say 'That's one we should get.' It's going to be a toss-up every game."
Paola and Tonganoxie both went to state last year and will be in Eudora's opening tournament, set for Dec. 3. Silver Lake marks the start of the Cards' regular season, and Eudora will be looking to avenge a loss a year ago. Baldwin, Luke said, is always Baldwin and will be tough again this year, especially considering Eudora bumped the Bulldogs from the post-season last year.
"We're just really ready to play," Snider said.