Wrestling squad to duel one of state's best
Two of the better wrestling teams in the state will meet Thursday when Santa Fe Trail will be the host of Eudora in dual action at 5 p.m. Thursday.
The dual was originally scheduled for Tuesday, but a scheduling conflict with Santa Fe Trail High School caused the event to be postponed two days.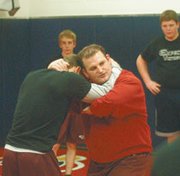 "It'll be a good dual," coach Bill DeWitt said. "They're a great team."
After the opening dual, the Cardinals travel Saturday to Effingham where they'll take part in an eight-team dual tournament, the Tilton-Worley Tournament. Action starts there at 9 a.m.
The quick turnaround, at least for DeWitt, causes more of an issue with cutting weight than with conditioning. Asking a kid to cut weight, have a day off, and then cut weight again for a tournament the following day is a tall order.
"What I'll do, if a kid is going to wrestle 160 Saturday I'll try to make him get to 164 for Thursday's dual and let him wrestle up a weight class for the dual and then get to 160 for the tournament."
Cutting weight is a big part of wrestling at any level, and coach DeWitt makes sure it is done in the correct fashion. The state recommends dropping eight percent of a kid's initial weigh-in should be the limit. Kids are put through a hydrated weigh-in at the beginning of each year, then they are allowed to lose eight percent of that initial weight.
That limits how much a kid can drop, and adds competition considering if there were no limit, a wrestler would just cut more weight if they were trying to win a varsity spot.
"We have three kids who all weigh the same," DeWitt said. "One needs to go up, one gets the weight and one needs to go down or wrestle junior varsity."
If the kid can't get down to the lower weight, he wrestles the varsity spot-holder every week, challenging for the job.
DeWitt says this has made his team better in the early part of the season.
"It's 6:15 (p.m.), and I'm just now leaving," DeWitt said of leaving the school late after Tuesday's practice. "We've got 15 kids challenging for varsity spots. It's very competitive."
The competition and experience in practice should be ample preparation for the dual and Saturday's tournament.
As for the dual, it will be tough. Santa Fe Trail is ranked No. 5 in the state preseason rankings.
"I won't know who exactly will be their match-ups until Thursday morning, but they're going to have a solid team," DeWitt said. "We're going to go out and wrestle a great team and show right where we are right away."
Of the tournament DeWitt said he expects to win it. Eudora won it last year, going 5-0 in the team dual tournament.
"It's not a strong tournament by any stretch of the imagination," DeWitt said. "It's just to get our feet wet, get in the flow. The goal is, with our home tournament next week, we want to make sure that our kids get to the weight class that they plan to be at for the entire season."