Statue tells story of founding family bond
The statue to be unveiled Saturday in CPA Park will depict a universal bond that its creator also found in the city's name.
Jim Brothers, a world-renowned sculptor from Lawrence, designed the statue based on a story he said he fell in love with.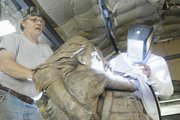 That story is the history of a father and his daughter, after whom the city is named, Eudora Fish. The father, Paschal Fish, was a Shawnee tribal leader in the 19th century. In 1857, he sold 774.5 acres of land to the German Settlement Society from Chicago. He asked that the city be named after his daughter, and they honored his request. At the time, Paschal Fish was 52 years old and Eudora was 9.
Brothers captured the love between the father and daughter with intricate details and powerful expressions on their faces. In her bare feet and a simple dress, Eudora's arms are wrapped around her father's waist as she looks into the distance. Her ponytail and the sash around her waist are blowing in the Kansas wind.
Paschal Fish stands mightily tall with one arm around his daughter and one hand holding an oar, to represent his work as operator of a Kansas River ferry.
Brothers said he tried to capture the story of the time with other details such as a work knife and pistol, both on Fish's waist. Brothers said the sashes represent the Shawnee heritage.
Brothers said he hoped his design would attract passersby, even if they didn't know the history of the family. Brothers also is the sculptor of several monumental bronzes for the National D-Day Memorial in Virginia and the National Veterans of Foreign Wars memorial in Washington, D.C.
He used a family friend, Hannah Garcia-Copp, as a model to sculpt Eudora Fish.
Local resident Tom Tucker presented Brothers with history and a photo of Fish when she was about 19. Brothers said the similarities between Eudora and Hannah were "so spot on it just blew me away."
"I feel very honored," said Hannah, an 11-year-old Lawrence girl.
"The neatest thing is to see your daughter encapsulated in time like that," Hannah's father, Tim Copp, said. "It's pretty cool."
He said Hannah has something to look forward to.
"Not many people get to look at yourself forever ... be an old person and go back and see yourself as a child," he said.
Eudora residents, young and old, will be able to appreciate the new monument next weekend and for years to come.
"It's something you remember as a kid, you remember as an adult and pass on to your kids," Sesquicentennial Committee co-chair LaDonna Russell said. "It's heritage."
More like this story