Throwing Down
Eudora takes league, set to defend state championship
Last week, Eudora High School volleyball head coach Jill Stutler talked about creating positive energy for this week, and in sports, nothing creates positive energy like success. The Cardinals certainly had a successful Saturday, winning the Frontier League Tournament championship.
"The tournament this weekend was definitely a positive direction," Stutler said.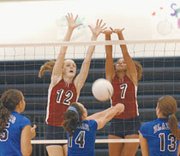 Eudora won four out of five matches Saturday, defeating opponents by an average of nearly nine points per win.
At the Frontier League tournament, Paola was the No. 1 seed and Eudora came into the tournament as the No. 2 seed, followed by Ottawa, Gardner, Spring Hill, Louisburg, De Soto and Baldwin.
The Cardinals began the tournament with solid wins, defeating seventh-seeded De Soto (25-18, 25-8) and then sixth-seeded Louisburg (25-16, 25-17). In their third match, Eudora faced Ottawa, the No. 3 seed. Although they won the first game 25-23, they lost the match in two close games (26-24, 25-22).
Despite the loss, the Cardinals still played well enough in their pool to get into the tournament's championship bracket. They played fourth-seeded Gardner in the quarterfinals, winning both games by a score of 25-18.
With the championship on the line, the Cardinals faced Ottawa again, looking to do more than simply even up the score. Eudora ran away with the match and the tournament championship, defeating Ottawa 25-13 and 25-18.
"Our kids played absolutely incredible," Stutler said. "We battled back from about a six-point deficit against Ottawa in the finals after losing to them earlier in the tournament."
It's been a busy four-day stretch for the Eudora High School volleyball team, as it headed to Gardner Tuesday to play in a quadrangular against Gardner, De Soto and Santa Fe Trail. All told, they've played eight matches and 18 total games between Saturday and Tuesday.
Eudora's first match Tuesday was against Gardner, a team the Cardinals had easily handled Saturday. They opened up flat and lost the first game 26-24. The Cardinals remained lethargic, but still managed to beat Gardner soundly, 25-16 in the second game.
In the third game, Gardner led by as many as seven and Eudora got to within three, but they let the match slip away, losing the third game 25-18.
"We just seemed unmotivated," Stutler said. "We talked about this last week in practice. We need to pound the ball and keep people guessing, but we just didn't do that against Gardner."
They certainly did against their next two opponents.
Eudora crushed De Soto 25-13 and 25-10 in its second match. The Cardinals still didn't show tons of enthusiasm after the match, which was the calm before the storm from a team that expected to win.
Their third match of the night came against Santa Fe Trail, a team they may see Saturday at sub-state. Where Eudora seemed to be sleepwalking against Gardner, they were wide-awake and on a caffeine buzz against the Chargers. After falling behind 8-4 in the first game, the Cardinals battled back, tying the game at 9-9. They took the lead for good late in the game to make it 20-19, eventually winning the game 25-22. A cross-court spike from Nikki Snider, who was the catalyst for their comeback, iced the game.
Snider also put away the second game in the same emphatic fashion as the first, leading to an identical final score of 25-22.
Snider played with both brains and brawn, making great plays all throughout the afternoon.
"Nikki has been huge for us," Stutler said. "What she needs to remember is that it doesn't have to be all power, which she did tonight. She covered us line-to-line and got some great digs. Now we just need our other players to continue to take some of the pressure off of her."
A couple of those players were Haley Epperson and Elaina Kouri, who also had solid performances.
"Haley played well on the frontline and Elaina has been doing a good job of getting points for us, too," Stutler said.
The Cardinals ran their record to 28-9 and now are looking forward to Saturday and the sub-state tournament, knowing there is a good chance they will have to face an unbeaten and top-ranked St. James Academy team if they want to repeat as sub-state champions and earn the right to defend their state title at the state tournament.
"I told the girls, 'We're all 0-0 right now, and only one team is going to finish the weekend 3-0. But we can't worry about St. James just yet because we need to worry about getting the first and second win,'" Stutler said.
More like this story