Rain splits cross country team
Last week's rain changed the time and the place, and in two circumstances even the race, for the Eudora cross country team. It didn't change the Cardinals quick ways, however.
The team's scheduled Thursday trip to Tonganoxie was washed out by several days of rain. Most of the squad showed back up when the event was rescheduled, Monday. The Eudora girls team raced to a second-place finish and senior Emily Ballock was sixth.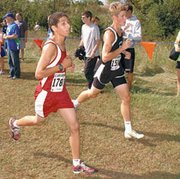 Freshmen boys Juan Ramirez and Ivan Espinosa opted to run instead Saturday at the Kansas City Metro Championships in Raymore, Mo.
The Cardinals walked away from both experiences happy, Eudora coach Paul Boone said.
"This was a real important meet," Boone said of his girls' day at Tonganoxie. "We topped a hill, and now it will all go really fast we head toward the end of the year. We need them to start being a little sharper and they were today."
The girls raced to a high finish for the second consecutive week, and again the strength came in running as a group rather than placing a few athletes at the very front of the race.
As she has all season, Ballock led the way, finishing the four-kilometer course located behind the Tonganoxie Middle School in 16 minutes, 24 seconds.
Senior Lauren Colman and junior Liz Hoese filed in close behind.
Colman was 10th in the 81-runner field, and finished at 16:52. It was her season best and another step in what has been rapid improvement for the Cardinal veteran.
Colman ran the same distance in 18:44 to start the season, already dropping nearly two minutes from her time.
"I felt really good," Colman said. "I was nervous at the beginning, but I felt good by the end. I finished higher than I expected.
"I didn't run much in the summer, so I think all the practice we've been doing has helped. Also, I think I'm better mentally. My times are a lot better this year."
Colman and Hoese ran together for much of the race, Colman pulling ahead only in the final stretch. Hoese finished 11th in 17:01, ahead of No. 17 Kaya Riemann, No. 25 Cathrine Wyede, No. 31 Bre Miller and No. 51 Molly Burton.
Hoese, Riemann and Wyede all posted career-best times.
"Kaya raced really well for her second varsity race," Boone said. "She jumped into the fray and was competitive."
It added up to 68 points for the Cardinals, 20 less than the Tonganoxie Invitational champion, Wamego, but well ahead of Class 5A's Mill Valley at 115 and former-Frontier League rival Anderson County, at 149.
"I was really happy with how they ran," Boone said. "We've had good workouts and they've really tied in well with what's happening."
The boys came into the race with an entirely different set of expectations. The team's two most consistent runners, Ramirez and Espinosa didn't run at Tongie, opting instead for the experience of the KC Metro race.
More than 30 full teams and nearly 250 runners took the course, and Boone said he was happy with how his wide-eyed rookies took to the spotlight.
Neither Ramirez nor Espinosa got trapped in the mob of runners, Ramirez in particular fighting his way to the front early. He finished 54th, easily establishing a personal best and beating his time from the previous week by 30 seconds.
Espinosa was 138th, finishing at 18:39.
"I was pleased with how they handled the big time atmosphere," Boone said. "If Tongie hadn't have been rained out, we'd have all come here, but (the KC race) was a good opportunity. It opened their eyes to what was out there."
Eudora's other varsity boys runners actually ran in the Tonganoxie junior varsity race, a move Boone said he hoped will help spark them as they prepare for the season's final month.
John Hadl was the team's top finisher in the JV race, crossing the line in 19:28 and in fifth place. Colby Root was 13th in 20:08 and Zack Courter was 14th in 20:10.
"We've got to start getting our times down and racing more competitively," Boone said. "We're trying to break out guys out and get out of a rut. Coach (Dan) Kuhlman, he has so many great ideas on how to help them out. We really work well together."
Eudora is next in action at 4:30 p.m. Thursday in Gardner.