Baldwin meet offers stiff competition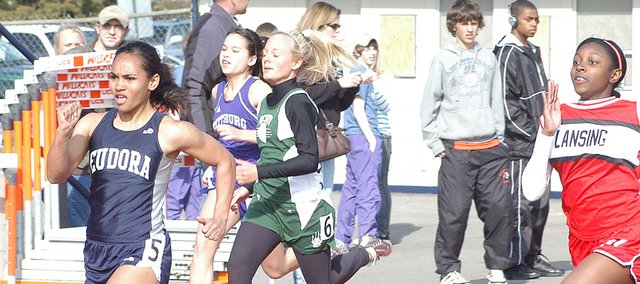 While some teams just got out onto the track for their first meet, Eudora competed for the second time this season in the Baldwin Invitational on Friday.
The girls placed second with 93 points - Baldwin ran away with 143 points for first place - while the boys finished seventh out of 13 teams. The fact that this was the opposition's first meet of the year put the Cardinals in a difficult position according to junior Kendal Abel.
"The competition here at Baldwin is a little tougher than last week," Abel said. "Most of these teams, this is their first track meet so the kids are coming out a little stronger and a little more hard-willed to come out on top."
"Weather-wise the Wellsville one was tougher and we're fortunate to have such good weather now, but team-wise, I think there's more competition here," said junior Rachel Pyle.
Weather was a big factor when Eudora took to the track in Wellsville, but this time around it was calm and fairly warm making it just one less thing to worry about as everyone prepared to compete.
"It definitely helped a lot, because it's easier to get warmed up," sophomore Justin Ballock said. "You just feel better when you're running, not as tight, and personally I think it helps with breathing."
Ballock had one of the most productive nights of any Cardinal, winning the 300-meter hurdles, then placing fourth in the 110 hurdles and seventh in the high jump. Both his 110 hurdles time of 16.18 seconds and high jump height of 5-feet-8 were improvements on his marks from the previous week.
Ballock wasn't the only one to post a new season's best and coach Phil Katzenmeier said that he was happy to see so many people improve in less than a week. He also said that he especially liked the fact that some of his lower tier runners made such drastic improvements, because that's where they can pick up extra points and climb up the standings at each meet.
However, for the second meet the Cardinals are where they should be.
"I think we probably scored as many points as we were capable of," Katzenmeier said.
For the girls, senior Emily Ballock was excellent Friday night, winning three events and placing second in another.
Ballock moved her season-best time in the 300 hurdles to 45.44 seconds for first place, captured the 200-meter crown in 26.96 seconds and anchored the 400 relay team to victory with a time of 59.0. Ballock also improved her time in the 110 hurdles to 16.27 seconds but fell just short of first place.
Finishing close behind Ballock in the 200 was junior Tianna Dunnaway, who came in third with a time of 27.7 seconds. Dunnaway also finished third in the 100 at 13.25, ran the third leg for the second place 400-meter relay team and led off the 4-by-400 team.
In the field events, Abel and junior Allison Hoover were impressive for Eudora. Hoover came in second in the pole vault at 9-0 while Abel finished second in the long jump (15-2.75) and third in the triple jump (31-9.5).
On the boy's side, senior Jordan Katzfey improved his triple jump distance to 40-8.5 and finished fourth. Senior Ben Katzenmeier threw 140-6 to place fourth in the javelin and freshman Juan Ramirez finished third in the steeplechase. Rounding out the top performances for the boys was junior Michael White, who finished fifth in both the 100 (11.64) and 200 (23.7).
"I think we're doing good right now," White said. "We've got a lot of strong athletes out here trying hard."
Next up for Eudora is a trip to Riley County on Friday for a meet in which Katzenmeier enjoys participating.
"Abilene will be there, and they're a good 4A school. In fact, they won the boys state title two years ago, and then Riley County always has some really outstanding athletes and they'll be some 3 and 2A schools there, too," Katzenmeier said. "The biggest thing I like about it is we get a lot of kids there and we see people that we don't (normally) see."
More like this story