Softball splits with Garnett on the road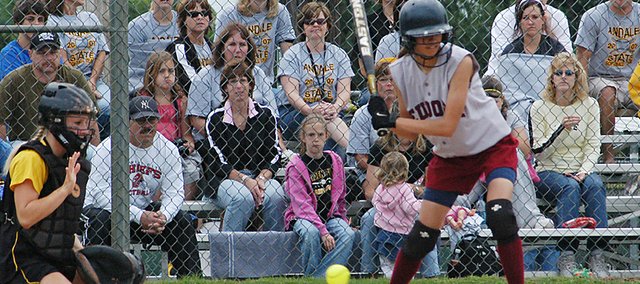 Mackenzie Salzman's first two games as a pitcher were solid, but on Saturday the senior looked like a life-long hurler as she one-hit Anderson County to help Eudora pick up a 4-0 victory.
A converted outfielder, Salzman was electric on the mound, recording 10 strikeouts without walking a single batter. Eudora lost some of its electricity in game two and fell 7-3.
"We played very well the first game - pitching and defensively - but we had a slow start hitting the ball," coach Cara Kimberlin said. "The second game, I never felt like we got comfortable
at the plate."
Kimberlin said that her team was reaching too much in game two. They were hitting the ball with just the end of the bat, consequently producing slow
rollers to the infield that made for easy defensive plays.
"That was a team that I felt we could score quite a few runs on, but we stranded almost 11 runners. We never put any pressure on them," Kimberlin said. "A couple of times we did, and they hesitated, but with runners in scoring position we never put the ball in play to force them to make a decision."
In game one, the Cardinals were efficient, scoring four runs on four hits. That support was more than enough on a day when Salzman was throwing lights out.
"My defense was a big help and I was just hitting my spots," Salzman said. "I felt good, my pitches were moving the way I wanted them to and my changeup was working really well. That was my key pitch on Saturday."
Junior Miranda Cobell started on the mound for Eudora in game two and she struggled greatly in the first two innings, surrendering 6 runs. Salzman came back into the game in the second inning and finished the game, allowing just one unearned run. However, the damage was already done.
"That's one that the coach is kind of kicking herself in the butt for some of the decisions she made," Kimberlin said. "It's not a knock on Miranda, but Mackenzie threw great in the first game and they weren't hitting her well and she hadn't thrown a lot of pitches. I should have just left her in there and I didn't, but you never know what's going to happen."
"I could have started the second game and been fine," Salzman said.
Eudora was scheduled to host a double-header with Louisburg on Tuesday, but the games were postponed due to weather. That decision was just fine with Kimberlin, who felt that the Kansas national championship game the previous night could affect her team.
"Most of the school, including our team, has a KU hangover," Kimberlin joked. "Not in a literal sense, but everybody was dragging their tails today, including the coaching staff, just from being up late watching (the game)."
The emotional drain from such an adrenaline-filled finish seemed to suck the energy out of Eudora High School.
Now Eudora will re-charge its batteries and try and put a shock into St. James Academy when it plays host to a double-header Thursday evening at 4:30.
"It's a team we've never seen before and maybe that's a good thing," Kimberlin said. "When we play teams in our league, I think we have a tendency to over-analyze things, but on Thursday we should be able to just go out and play ball."