Older Ballock remains motivated for
KU

meet despite career success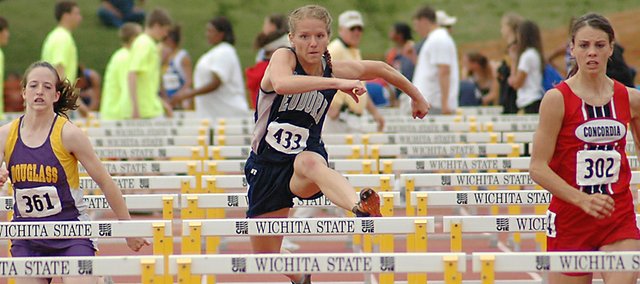 Emily Ballock has nothing left to prove.
A three-time defending state champion and 2007 Kansas Relays champion in the 300-meter hurdles, the senior has already committed to run track at Wichita State next season. She's accomplished more in her career than most athletes would ever dare to dream, and doubters of her talent are sparser than few and far between try non-existent.
Why, then, is this heroine of the hurdles down in the infield during a middle school track meet, getting in extra sprints? What else could Ballock possibly hope to achieve in her few remaining days as a Cardinal?
Answer: Perfection.
In all her races, of which there are many, and all her victories, of which there are nearly as many, Ballock has never run a perfect race.
"In any one there's always something, like I get off my steps or I hit the hurdle or something," Ballock said. "I've never had a perfect race and each meet helps me build towards that."
It would be easy for someone in Ballock's position to settle for what they already accomplished and breeze through the rest of the year, but that's simply not the case.
"Not her, nope. You don't see anybody else out here doing sprints right now," coach Phil Katzenmeier said from the Laws Field press box
Tuesday afternoon.
What was Eudora's top track athlete doing at Tuesday's middle school track and field meet? Just getting in some extra conditioning for the two meets she'll run this week.
Because Eudora couldn't compete in the re-scheduled Anderson County Invitational, Ballock will be able to compete in the Cardinal Relays, Eudora's lone varsity home meet, Thursday night, then rest up and jet over to Memorial Stadium for her first event in the Kansas Relays at 10:30 a.m. Friday.
Ballock is the only Cardinal competing in the 81st running of the Kansas Relays, and she's entered in the 400-meter dash and 100 and 300-meter hurdles.
Last year, Ballock won the 300 hurdles with a time of 44.56 seconds.
"Winning last year was awesome," Ballock said. "Competition-wise, it's probably the biggest meet I ran all year, even bigger than State because girls come from all the surrounding areas and states."
Katzenmeier can see her desire to again reach the top of the Kansas Relays podium.
"That may be the very thing that keeps her motivated," Katzenmeier said. "Knowing what she has to live up to, because as the defending champ all the pressure is on you."
Thursday night will be a carefree meet for Ballock, if there is such a thing, because it will be the first time since her freshman year that she'll run at the home meet. The Cardinal Relays will double as Ballock's senior night, and while it doesn't carry the prestige of the Kansas Relays, she will undoubtedly race with fire and passion as if they were the same meet.
"Every meet is an important meet because it provides a stepping stone to get where I want to go," Ballock said.
Where she wants to go is into history, with her name beside some of the greatest athletes the state has ever produced. In order to do that, Ballock said she must finish the sweep of the 300 hurdles at this year's state meet.
However, her eye to the future doesn't mean she's overlooking the present. Ballock who admits to being "kind of a perfectionist" will run in the 100 and 300 hurdles in Eudora on Thursday, then the preliminary 400 and 300 hurdles in Lawrence on Friday.
The experience of last year's victory has left Ballock unsatisfied with the idea of anything less.
"Last year my goal going in was to win, and I wasn't sure how that was going to go, but then I did," Ballock said. "That's provided me more motivation going in this year because I want to defend that title and go out on top."
Added Katzenmeier, "She's focused. She doesn't feel like, 'Well, I can go in there and win it easy because I've done it before.' She feels like, 'I can go in there and prove that I am the best.'"
Odds are none of her events this week will produce the perfect race that she is searching for, but near-perfect from Ballock ought to be good enough for first.