Kobza resigns as Eudora superintendent; Grosdidier named interim superintendent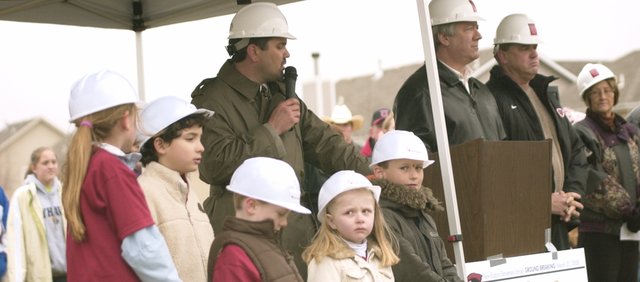 The Eudora USD 491 Board of Education on Monday accepted the resignation of Superintendent Marty Kobza and named Eudora Assistant Superintendent of Curriculum and Instruction Don Grosdidier the interim superintendent.
Kobza announced Friday he was leaving the district to accept a similar position in Hot Springs County, Wyo.
"While I know this may come as a surprise to many of the people who work here, it is an opportunity for me and my family to pursue new goals that are very important to us," the 40-year-old Kobza said in a written statement released by the district.
Kobza has been with the Eudora district for 14 years and was promoted to superintendent in 2001 from his post as principal of Eudora High School.
Kobza's time as superintendent coincided with a time of rapid growth in Eudora. To deal with increased enrollment, Kobza oversaw the passage to two district bond issues. The first built a new Eudora High School on the district campus south of Kansas Highway 10. The second was a $45 million bond issue passed last November, which included a new 1,000-student first- through fifth-grade elementary school started last month and is scheduled to open in August 2009, conversion of West Elementary to a pre-school and kindergarten center, additions to the middle school and high school, a technical education center and a stadium.
Grosdidier has been with the district for 22 years. He taught social studies at Eudora High School beginning in 1986 and then was promoted to middle school principal in 2001. He was again promoted in 2006 to his current position.
"I'm excited about the opportunity personally and professionally," he said. "In my discussions with the board, the key thing we want is continuity. We're happy with the direction the district has taken. We want to ensure the staff and the community that we will continue that direction. From a leadership standpoint, I take that as my charge."
Grosdidier said he is sad to see Kobza go on both a personal and professional level, as they have worked together in a variety of capacities over the last 14 years.
Eudora Board of Education President Kenny Massey said the board didn't want to see Kobza leave, but also felt Grosdidier made the most sense to fill the interim position because he is of the same mindset as Kobza and the board.
"Marty's been a key role player in the district," Massey said. "Everybody on the board is saddened to see Marty go and we wish him well. But we feel confident that we're headed in the right direction with Don as interim superintendent."
Kobza will stay on with the district through July 1 and Grosdidier will serve in the interim for one year.