Room for squares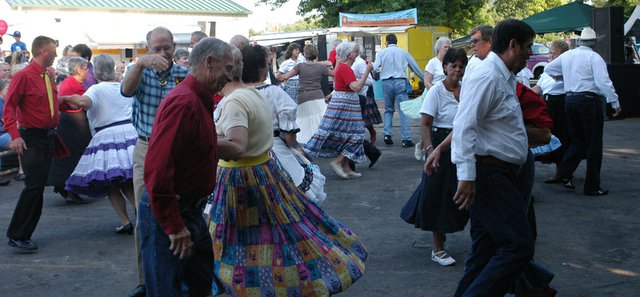 It's about 90 degrees outside at the pavilion on the Douglas County Fairgrounds, but the heat does not stop members of the Lawrence Happy Time Squares from doing a 30-minute demonstration in their best (i.e. warmest) western attire.
For Eudorans Cherry and Bob McCabria, who have been square dancing for about 30 years, the heat wasn't enough to keep them away.
"Since we love music and love to dance it (the heat) doesn't matter," Cherry McCabria said. "We just dance at a slower pace."
The group of about 130 dancers, which meets once each month, includes a large contingent of Eudora residents.
Each of them had different reasons for joining the group, but all of them enjoy it immensely.
The McCabrias resumed square dancing when they became empty nesters. But Cherry said it also is a good way for her to get her mind off of her everyday concerns.
"You don't have time to think about your problems because you just have to listen and react," she said.
Violet Huseby, who has been with the group for four years and enjoys how active it is.
"It's good exercise, and it's fun so it doesn't feel like you're doing it," she said.
Darin Howell certainly would agree that it is active, as he was dripping with sweat during a break from the action.
"I weighed 500 pounds before I got here," Howell joked.
Darin and his wife DeeAnn joined the group about a year ago after meeting the McCabrias at their church, St. Paul United Church of Christ.
Initially, Darin didn't want to learn how to square dance but the people they met while taking lessons made it such an enjoyable experience that the Howells went to the National Square Dancing Convention last June in Wichita.
"I told my wife I'd do the three free lessons, and then I'm done," he said. "But then I got into it and the people make it fun. These people know how to have a good time.
"It's a cheap date, too. Saturday night we can go out and dance, the people are nice, we get home early enough for church the next
morning and we get some exercise."
DeeAnn agreed that it was the people that make all the difference.
"The biggest thing for us is the socialization," she said. "At first, we only knew maybe three or four couples out of the club, but we consider all of them friends now."