Teachers' food drive a success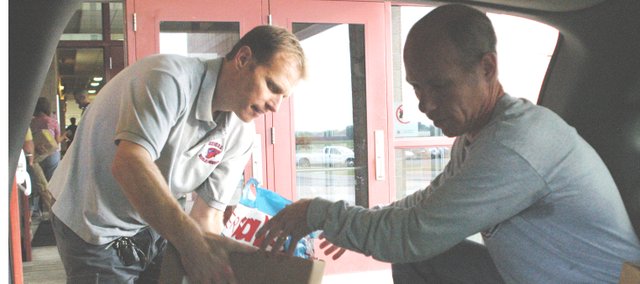 The Eudora National Educational Association started the school year on a positive note by having a food drive for the Eudora Ministerial Alliance Food Pantry Thursday at the Cardinal Kickoff, the first official day of work for teachers.
Every nonperishable food item or $20 donated by teachers and staff members got them a raffle ticket for prizes, including Kansas City Royals tickets and gift cards at businesses including Wal-Mart, Kwik Shop, Borders, Amore Chocolate and Gambinos.
They collected about 1,000 items and also received cash donations totaling $270.
The ENEA Public Relations Committee, which was formed last September in order to publicly support the $47 million bond issue, came up with the idea to have the food drive.
"For our first effort, we're just thrilled," EHS English teacher and ENEA Public Relations Committee member Shannon Pickett said. "It's something I'd like to see continue and become a tradition."
Eudora USD 491 Superintendent Don Grosdidier also thought the food drive was a great way to begin the year.
"I always felt that teachers are givers, and this is just another example of how they give," Grosdidier said. "I think it sends a good message to Eudora that we're starting off by thinking about the community as a whole and the wellbeing of everybody."
It also was a first day of sorts for Grosdidier, who was beginning his first full school year as superintendent.
"Anytime you start in a new position there's always a sense of excitement, and that's definitely the case for me today. It's probably magnified because of the magnitude of what we're going to be doing," he said, referring to the expansion of the district. "Just the sense of change that will take place for all us over the next two years - it doesn't feel like we're just embarking on a new school year, it feels like we're embarking on a new journey."
In a presentation using the story of a lifelong Eudora student who overcame personal odds to be the first in her family attend college, Grosdidier told the faculty and staff members that it takes everybody to allow students to be as successful as they are.
The speech inspired several members of both the staff and faculty.
"You know you're coming into a district that has high standards already set, so that's really exciting," Kaydean Foster, who is new to the district and will be the library media specialist at the elementary schools, said.
Pickett said the kickoff was a great way to get the staff excited for the beginning of the year.
"Having the food drive and seeing that video - especially since it was such a personal story - I think it really motivates everyone to help the community and help the kids," she said.