Downtown project on schedule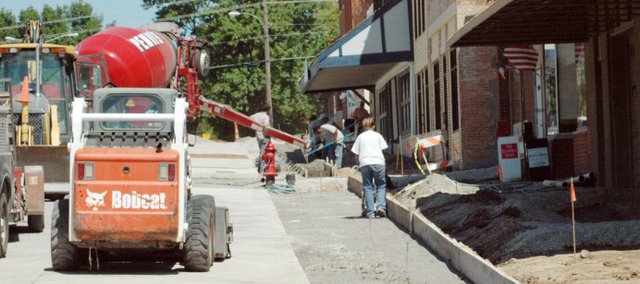 Though weather initially was the reason the downtown beautification project had to start about two weeks late, it now is the reason the project has stayed on schedule.
A rainy late spring contributed to a delay of the project, causing it to get started about three weeks late July 7.
Mike Kesinger, who is supervising the project for RD Johnson Excavating, said when temperatures reached 92 degrees concrete work had to stop. So, cooler temperatures have kept the project on schedule.
Construction on the east half of Main Street will finish up in about one month and then will switch to the west side.
New sidewalks will be added and new lighting installed for the area spanning from Seventh to Ninth streets on Main Street. Main Street also will be repaved and fitted with new curbs and gutters from Sixth to 10th streets. Waterline and storm sewer
improvements will be the most time-intensive parts of the project.
Furthermore, what initially was said to be a 90-day job turned into a 150-day job because the city was able to afford to make more improvements to the streets and to storm drains in the area of the fire and police station.
Kesinger said waterlines and new hydrants had been installed and curb and gutters were being installed in front of businesses early in the week.
Roger Johnson, owner of RD Johnson, originally told downtown businesses at a preconstruction meeting that it would only take about four to five days to replace their sidewalks, but that estimate was changed to three weeks.
Kesinger said the task was more involved than originally thought.
"What Roger and everyone were forgetting is that I've got an electrician that needs to get in there (to the buildings) so we had to build a temporary (path) into everyone's front door," he said.
Businesses in downtown Eudora have seen a decline in business, but not to the degree they thought.
"Cutter's has obviously suffered, but people do tend to drudge through the mess to get where they need to go," said Tracy Trefz, of Cutter's Smokehouse and Pub. "We also don't have street lights anymore so our night business is gone because people don't want to cross the street in the dark."
The construction has simply been an inconvenience for other businesses.
"It hasn't really effected our business at all, and a lot of that is because our business is service oriented," DC Custom Crafted Cycles Co-owner Matt Montgomery said. "The walk-in traffic hasn't really changed and service has picked up. It's a little bit of a hassle and the first time it rained we all had goldfish ponds, but other than that, it hasn't effected us."
Downtown Eudora Business Association President Tina Montgomery said communication with the RD Johnson work crew had been excellent and she realized the construction will make the downtown area better.
"The way I've looked at the whole thing is it's something that's got to happen and be done," Montgomery said
More like this story