Eudora Public Library space hasn't caught up with growth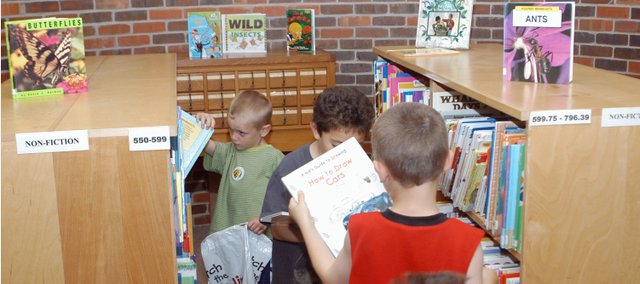 At the end of July, the Eudora Library Summer Reading Program finished after having close to 300 participants.
Library director Marlene Evinger is glad they didn't all show up at once to sign up, because the library barely has enough room for books let alone 300 people.
Built in 1976, the library is on a growing list of facilities and infrastructure that has not yet caught up with population growth during the last 10 years.
"Eudora has grown so much, and that of course has impacted the library," said Evinger, who has been in her current position for 24 years.
The library is just 2,500 square feet and serves a population of about 7,400 people.
According to Kansas Public Library statistics from 2007, there are 46 libraries in northeast Kansas. Eudora serves the 12 largest population, but the size of its library puts it ahead of just 11 other communities.
As a result, the library does not have room to add more computers, nor add to its collection of books and DVDs.
It no longer has a meeting area because the children's section had to be expanded and work areas for the staff are piled as high as can be deemed safe.
It has even run out of room to get rid of books.
"We weed books off of the shelves and make room for the new books, but we can't keep up with them," Evinger said. "Unless we donate them to goodwill or send them to Lawrence for a book sale, we have no place to keep the books.
The library is run by the township board, which has had architects do analyses of the current property. But they have been told there is not enough room to expand.
"Having a nice new library is an asset to any community, but we're so limited with areas that we can go to," Evinger said "On this site, there's nothing we can do."
And with the economy in the state it is in, Evinger realizes there are not a lot of funds available. The library accounts for two mills in the township budget.
A possible, though not immediate, solution to the problem could be moving into a larger temporary location. The Eudora school district also has discussed the inclusion of the library in talks regarding a new central office site.
Evinger hopes wherever the library relocates is as accessible as the current location.
"We'd like to stay centrally located so that the children can still get to us," Evinger said. "A lot of them ride their bikes to us or walk, and in a small community, we'd like to continue to see that."