First-year managers: enjoying it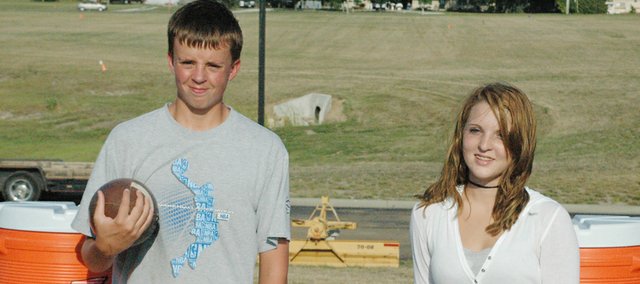 It's 5:30 p.m. and practice is winding down. Kameron Crabtree is on the left sideline. He scurries, gathering footballs into a bag. Mallory Reese is behind the wall of players standing and watching the team kick field goals to end the day's practice. One kick is blasted 20 yards past the player stationed behind the post to catch the ball.
"Yo, Crabtree! We need another ball now!" shouts Eudora coach Gregg Webb.
Crabtree, with the sun glaring down on him in the wind and heat, fires a left-handed spiral back to the huddle.
For the two sophomore managers of the Eudora High football team, their lives can be quite hectic during the season. Just like the players, they are up early for two-a-day practices and stay late after practice finally ends. Their duties include going to the training room and helping the trainers fill up the water or get tape. They also have to count inventory, move equipment, write down the names of players in their designated groups and be at the beck and call of about 75 people on the football field each day.
Until last week Crabtree had been doing much of that work on his own. He then decided to go on a recruiting trip.
"He was asking people to help him and everybody was saying no," Reese said. "So I had nothing to do after school so I just helped him out and it seems pretty fun. It's all right."
Crabtree, who doesn't play football but enjoys watching it, said he had taken a few pointers from the team while on the job.
"Just by walking around I learn things about football," he said.
Crabtree has been with the team since camp, and Webb said now he and Kameron had a good rapport with each other.
"He kind of knows what I need and when to ask and all that stuff," Webb said. "And Mallory is learning. They understand that there's certain things we need done that people take for granted like equipment, getting water and cones, getting dummies moved. That makes it easier on us. The more supplemental workers, the better."
The duo gets a little assistance from the trainers, and players will sometimes help out on the field. But they are the ones who get asked or told to do something first. Like Reese, Crabtree said he wanted to be a manger because he didn't have much to do at home and it would keep him busy.
"I am enjoying it," Crabtree said. "It's not really one of the funnest things, but I am enjoying it. I like it. It gives me a chance to meet people I don't know."
Crabtree said he already knew many of the players well from having class with them over the years. He added that he had already made new friends on the team. And senior lineman Cody Carlson said the managers have been a welcome addition.
"They've done a pretty good job," Carlson said. "Last year I don't think we even had a manager so having two managers is pretty good for us. Kameron and Mallory are doing a good job getting water and taking care of things."
The relationship between players and team managers can sometimes be tenuous at best. Managers can oftentimes be at the mercy of a wet towel or an unexpected flying football headed their way.
But not at Eudora.
"They wouldn't treat us like that," Crabtree said of the players. "All of them are our friends."
Like the players, the coaches too bark at managers. Last week the two didn't write the players' names down on time for their group sessions and that caused a delay. But there is one job that Crabtree said he wouldn't mind not having to do again for the next few months.
"At the beginning of the year I had to carry out all the equipment out into the halls and I had to bring all the shoulder pads out of storage on a rack," he said. "It's a tight squeeze in there and at the end of the year I've got to put all that back."
But until then, the two managers will continue working on and off the sidelines, behind the wall of players and coaches, knowing full-well that their duties as manager are often overlooked but not unappreciated.
"They understand they're a part of our team, too,"
Webb said.
More like this story