Vision committee searches for solutions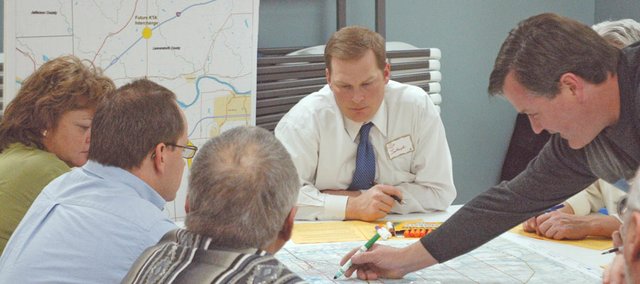 In November, the city of Eudora had the first of many community-planning meetings - called Vision meetings - where citizens came together to plan for Eudora's future.
The initial meeting consisted of a diverse group of about 20 citizens who came together to decide how to fix problems that exist and accentuate the positives of the community.
That first meeting was more like a meet-and-greet for citizens to make themselves familiar with the issues, the process, City Administrator Cheryl Beatty and engineering and planning firm Bucher, Willis and Ratliff.
However, the second meeting - conducted Jan. 30 at the Eudora Community Center and called a charrette -got right down to business.
The meeting was attended by about 30 people and after breaking them into four groups - infrastructure, economic development, quality of life, future land use - charged them with figuring out possible solutions to the issues addressed in the previous meeting.
Beatty, as she did in the last meeting instructed each group to think big.
"It's better that the ideas come from community members because that way the community will look the way they want it to look," she said, addressing the group. "And it's better than city officials jamming things down your throat."
Another big difference between this meeting and the first one was the participation of people, such as City Councilwoman Lori Fritzel, Mayor Tom Pyle and Planning Commission Chairman Kurt von Achen. These people work for the city or sit on boards that will decide the fate of the issues, so they were able to further illuminate the intricacies of some issues.
Senior Vice President and Community Planning Team Leader for Bucher, Willis and Ratliff Scott Michie said it was good to see people who sit on such committees at the meeting.
"It's important because the planning commission and the city council are the bodies that will formally adopt the plan, so we wanted to have a broad cross section at the focus section to get the issues out on the table," he said. "But then we wanted to have both citizens and planning commission and city council members and the mayor then take those issues using the work books and maps and get into the specifics of those issues."
Possible solutions to quality of life issues were:
¢ Maintaining Eudora's small town feel
¢ Updating CPA Park
¢ A central location for all public safety units, i.e. fire and police departments
¢ Making downtown a destination
Possible solutions to infrastructure issues were:
¢ The development of White Dog Road
¢ The construction of a Winchester Interchange
¢ Widening Old Kansas Highway 10 to three lanes
¢ Placing sidewalks on all streets.
Possible solutions to future land use issues were:
¢ Creating trails that parallel each street
¢ Improving downtown starting just past Pilla Park and extending to 10th and Main Streets
¢ Creating economic development along K-10
¢ Constructing a riverfront park
Possible solutions to economic development issues were:
¢ Planning commercial and industrial development
¢ Improving the streets
¢ Establishing downtown
¢ Better planning of Eudorafest
¢ Easier access to Eudora
¢ Establishing a balance between residential and commercial tax bases
¢ Developing the riverfront
After each group presented its findings, Pyle told the gathering he was happy to see everyone on the same page and thanked participants for coming to the meeting.
"I think Eudora only has one place to go, and that's forward," he said. "I think with the community we've got and the people we've got serving us, this will be not just a great place, but a really great place to live and raise families.
Von Achen also praised the members of the town's leadership.
"I think we've got a good city council, a good mayor, I think Cheryl is doing a good job," he said. "There have been some great things that have happened in this community over the last 10 to 12 years, and it can only get better. I think tonight shows that."
Bucher, Willis and Ratliff will create a report and bring it back to city council members and, with their input, build a draft of a comprehensive plan to bring to the public in a series of town meetings.
Beatty thanked the participants for their time.
"It is a lot of time invested for you to come out, and I know some people find it very boring and some people find it very exciting, but it's important that you do it," she said.
The next meeting will be at an as yet undecided date in March.