Boys just short against rivals
Cards rebound with victory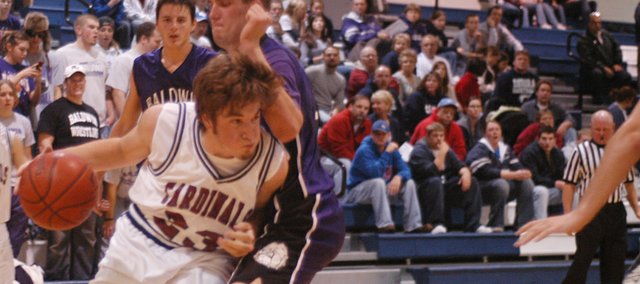 It's hard to win games when you face an opponent that gets 17 more points - yes, points, not attempts - from the free throw line than you do. That's exactly what happened Friday night when the Cardinal boys basketball team got back into action with a home game against Baldwin.
Dylan Rust finished with his first double-double of the season, scoring 14 points and collecting 10 rebounds, but the Cardinals never could recover from an inability to get to the free throw line, as Eudora went 1-4 from the charity stripe while Baldwin went 18-27 and Eudora lost 46-38.
Coach Kyle Deterding was not ready to blame the loss on officiating, however.
"The refs thought we were (fouling more than Baldwin), so that's all that matters," he said. "We were getting the ball inside and sometimes you get to shoot a lot of free throws and sometimes you don't and we didn't. That's just the way it goes."
Senior Aaron Shockley contributed nine points on a night when most everybody struggled, particularly Eudora's younger players.
Normally the leading scorer, sophomore Justin Ballock was held to just four points on one of the more frustrating nights of his young career.
Deterding said Baldwin was much to blame for the struggles of not just Ballock, but Eudora's other sophomore starter, Evan Cleveland.
"They are the best team we've played so far. Secondly, they are sophomores so they're going to have games like that," Deterding said. "It's taken them until game six to have one of those games, so I've been pleasantly surprised at how well those young kids have done."
Deterding added that his younger players came back after the game resiliently, having the attitude that they wanted to get right back out on the floor and get ready to go.
Baldwin is 6-1 and their only loss came to Louisburg, another squad excepted to finish near the top of the Frontier League.
Both Cleveland and Ballock bounced back positively to the Baldwin game.
At Silver Lake Tuesday, Ballock responded with 16 points - 10 in a strong fourth quarter effort - as Eudora emerged victorious, 38-35. Cleveland and Shockley managed to take care of the ball well for Eudora down the stretch and prevent a come-from-behind victory for Silver Lake.
Junior Kyle Swanson stepped to the line with one minute remaining and Eudora leading 36-33. He showed poise in knocking down two key free throws that ended up sealing the deal for the Cardinals.
"He's a good shooter, and those were big ones," Deterding said. "I was glad somebody made some."
Eudora's defense held the Golden Eagles' offense to 14 points in the first half, slowing up their leading scorer, senior Marshall Wetta, and allowing him just 10 on the night.
"We still had some mental lapses, but the bigs really worked hard on him. It was a pretty good effort," Deterding said.
De Soto comes to town next for Eudora, who is 4-3, and that rivalry game is one that senior D.J. Fritzel said the Cardinals will be up for.
"It was a big win, a good school," Fritzel said of Tuesday's game. "After that loss to Baldwin this kind of boosts morale, gets us ready for De Soto."