Downtown businesses team up, form association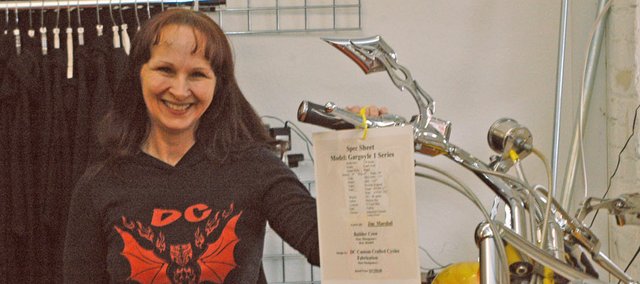 As Tina Lencioni, co-owner of DC Custom Crafted Cycles, sits in her the cycle shop she's helped run for nearly three years, she looks at some old black and white photos of downtown Eudora. The photos show a bustling Main Street, with men dressed in three-piece suits congregating in front of a business.
Lencioni would like to see downtown Eudora regain some of that bustle, so she decided to form a downtown business association.
"It's mainly for communication," she said. "There are a lot of businesses downtown who are not with the Chamber (of Commerce), and now with the flower shop back and the new coffee shop and the liquor store, I thought it would be a great opportunity to organize something so we can all keep in touch and do things together - especially with the new revitalization of downtown."
Lencioni sent letters to 28 businesses notifying them of the first meeting, which was Jan. 15. Only eight businesses - Full Bright Sign and Lighting, Quilting Bits and Pieces, Main St. Wine and Spirits, Miller Insurance Agency, Cutter's Smokehouse and Pub, Stable Systems and Coffee Talk - so far have committed to joining the group.
Lencioni said she has spoken with Chamber of Commerce President-elect Dr. Doug Mateo. Mateo supported the formation of the group and will be at the next meeting.
Representation by a group member at city council, chamber of commerce, 20/30 Vision and planning commission meetings is a top priority for the association.
"There's several groups that have formed and I think it's very vital that downtown businesses are aware of them so that they can be apart of them and know what to expect," she said.
Owner of Stable Systems LaDonna Russell said solidarity between the businesses would make all of them more productive when concerns arise.
"I think that downtown has some unique issues and downtown businesses getting together and working on those issues is a great idea," said. "I think that we have several different things going on that we'd like to make sure we don't duplicate efforts on and really focus on the downtown issues."
The most pressing of those issues is the upcoming construction that will be done on Main Street. Though it might put a kink in the summer sales figures of businesses, Lencioni sees the construction as an overall positive.
She hopes the beautification of downtown will improve events, both old and new, that occur in the district.
"There's so much history downtown. It ought to be a big part of old traditions and new traditions, as well. With the revitalization project going on, why wouldn't you want to back it up with some new traditions to keep it beautiful, to keep people coming down here and let them know that we are down here."
The logistics of membership have not completely been worked out, nor is there an administrative structure.
Lencioni would like to charge annual fees, but isn't sure what those should be. She wants at least three administrative positions to exist: president, treasurer and secretary. However, she doesn't want to be the de facto leader.
"Just because I started it doesn't mean I'm in charge," she said.
She cares more about establishing the association and getting everyone on the same page.
"It can't be done by one person or one business, it just can't," Lencioni said. "It's going to take all of us."
The next meeting of the Downtown Eudora Business Association will be at 9:30 a.m. Feb. 12 at Cutters Smokehouse and Pub, 725 Main St.
Call Tina Lencioni at 542-1903 for more information.