Sisters in arms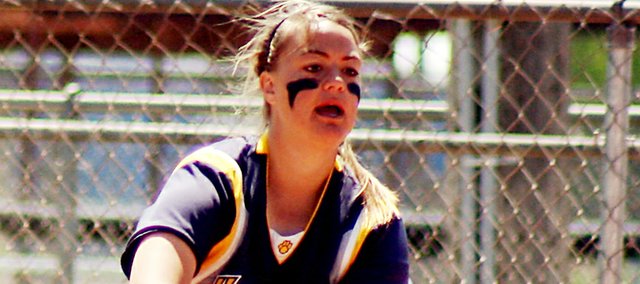 Softball has been a way of life for sisters Kelly and Karen Spence.
Each one found success on the diamond while at Eudora High School then turned that into a chance to play in college. Now, after stellar seasons at their respective schools, both are hanging up their cleats and bidding farewell to the game.
Kelly, the elder by two years, capped off her career at Sterling College with a solid senior season both on the mound and at the plate. Aside from her numbers, Kelly succeeded in returning to a familiar role.
"I knew going into it I was going to have to be a leader," Kelly said. "As I assumed that role I felt that I got closer to the girls because I made more of an effort to know all of them."
Kelly said that a pitcher, whether she likes it or not, is the natural the leader of the team. "I think I embraced that to the best of my abilities this year."
Though she didn't know it throughout the season (she said coach Hosea Bell only lets the players keep tabs on team stats) Kelly accumulated some impressive numbers last year, which earned her second team All-Kansas Collegiate Athletic Conference.
On the hill Kelly won eight games and struck out 58 batters. At the plate she had a .271 batting average, scored nine runs and drove in 15 RBIs.
However, Bell told her that she earned the recognition as much for her attitude as her stats.
"That really meant more to me than my hitting stats or anything," Kelly said. "People noticed that I was team-oriented and that was cool."
One of the people who would attest to Kelly's team-first attitude is Highland Community College coach Heidi Jordan. Before finishing her career at Sterling, Kelly spent her first two years of college playing at Highland, which happens to be the same place where Karen just finished her sophomore year.
Kelly's name is still brought up to the Scotties as an example of how to do things the right way, which doesn't always sit well with little sister Karen.
"I know that she was always the really good leader because the coach would brag about her all the time," Karen said. "Like 'When Kelly was here she was such a good leader, and blah, blah, blah.' I was getting a little tired of hearing that."
The back-and-forth between the sisters is mostly good-natured, but playing the same sport does start some fires.
"It definitely brings out more competition in us, and not just softball, either, it can be anything, like playing cards," Karen said. "It makes it more fun too, because it's not like rub it in her face mean.
We're just competitive."
Too competitive sometimes, Kelly said, but that's what happens when two sisters so close in age get compared so often.
"She plays first, I play first; I pitch, she pitches," Kelly said. "We're both clean-up hitters. We're very similar but also very different players."
Karen tried her best to stand apart from Kelly this season and did so the best way she knows how, by knocking the cover off the ball.
Karen hit .364, cranked out a team-leading 17 doubles, drove in 45 runs and scored 29 times. Those numbers earned her first team All-KJCC and second team Region VI honors.
"It means a lot," Karen said. "And it's good too because she's older and I have one step up on her."
Kelly admits that Karen is a better hitter, but that never stopped little sis from hammering the point home.
"She'd call and tell me she hit three home runs in a game or something," Kelly said, "rubbing it in but in a sisterly-competitive way."
Competition aside, Karen also called for leadership advice about her current and Kelly's former team.
"It was a very unique situation," Kelly said of them both playing at Highland. "If she needed to talk about problems with the coach or anything I could understand better because I was there."
In addition to phone calls, Kelly said they text each other almost every day, both about softball and life off the field.
The latter will be discussed much more heavily now that both of them are finished playing collegiate softball.
Kelly graduated from Sterling and while Karen could go to a smaller school to finish her playing career, she decided to enroll at Kansas St. and leave softball behind for a future as an elementary school teacher.
"I'm ready to turn a new leaf," Karen said. "Softball is all I've known, it's my whole life and I want to know something different."
Kelly said she talked to several friends who went the route Karen will, stopping after two years, and she's happy she kept playing. That doesn't mean there's not a weight off her shoulders, though.
"Being done is a relief, but I know I'm going to miss it," Kelly said. "It's the end of an era, the end of a chapter in my life."
Life on the diamond may be over, but take pity on the poor soul who tries to get in the middle of Karen and Kelly's next game of cards. Competition like this will continue for countless chapters ahead.