5K good for close to 2G
Annual race sees increased participants and increased funds in 2008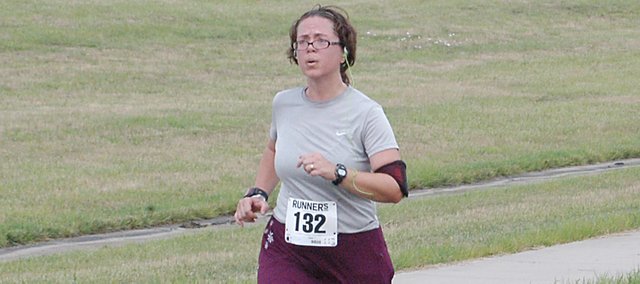 Two 71-year-olds, an 8-year-old and 112 people of varying ages in between all gathered in one spot Saturday, and it wasn't at a city pool or country club.
All 115 participants completed the annual Eudora Horsethief 5K Race Saturday at the Eudora High School cross country course.
Taking part were father-son tandems, mother-husband-son trios, a former Big 12 and Kansas State standout and even one man from Stillwater, Okla.
"We increased the total number of entrants from a year ago, and we just continue to grow the race," said Eudora High cross country coach and event organizer Paul Boone.
At 7:30 a.m. Saturday, a cannon was fired and 138 people took off from the starting line. Of those 138, 23 were participating in a one-mile fun run. The event was held to benefit the Eudora High cross country team, and the actual number of entries, counting no-shows, was 156.
That meant once expenditures were paid, the Cardinals were benefited to the tune of around $2,000. The proceeds will be used to provide athletes with rewards such as dinners after hard training days or, even, a training trip to a locale in the area at which Cardinal runners don't usually get to train.
It may come as no surprise that former K-State cross country runner Joe Moore took home the title, completing the course in 15 minutes, 55 seconds. Charles Janssen, Leawood, and Cody Burns, a 2007 graduate of Eudora High School, took second and third with times of 17:03 and 17:27, respectively.
It was the fifth year Burns had taken part in the race, and he said the field was tough compared to years past.
"(The competition) was pretty good, actually. We had some collegiate athletes and some pretty solid high school athletes," Burns said. "I'm happy with my place. Second was a possibility, and I'm not so happy with my time."
But perhaps even more important to Burns than the competitiveness of the race is the ability to help the program, which factors heavily into his participation in the race.
"That's another big deal, just because Eudora cross country has been a big part of my life the past four years," he said. "It's really nice to come here, have fun and give a little bit back."
Other notable finishes by Eudora natives were: Megan Ballock, who finished second in the overall female division in 21:09; Ivan Espinosa, a current EHS cross country team member who finished first in the male, 13 to 15 division in 19:08; Tristen Chapman, first in the male, 1 to 12 division in 24:23; Kaya Riemann, current team member and third in the female, 13 to 15 division in 23:35; Brittney Graff, current team member and second in the female, 16 to 19 division in 21:58; Joe Pickett, third in the male, 30 to 39 division in 23:00 and Richard Campbell, third in the male, 50 to 59 division in 25:40.
LaDonna Ballock and Jordan Vondorbrink, both of Eudora, finished first and second in the 1-Mile Fun Run with times of 8:57 and 8:58, respectively.
Competition aside, the theme of raising funds for the team may be the point of having people pay the entry fee and run on Eudora's home course, but the race is about more than that to Boone.
"The whole feel of the event is we want to have fun being fit, continue to improve," he said. "Get out there and everybody has their own goals no matter where you're at in the race. Seeing those people go after those is a lot of fun."
That enjoyment and fun was precisely what the Tollefson family got out of it, as well as the feeling of completing something together. John Tollefson, wife Julie and son Jacob, Lawrence, all completed the 5K race Saturday.
In this case, youth won out as Jacob, 9, finished ahead of both parents, just two places ahead of his father in a time of 32:04, good enough for fourth place in the male, ages 1 to 12 division.
"It's just a way to get out and run with my family," Julie said. "It was a great day to run, nice and overcast. They (husband and son) probably enjoyed it more because they were more speedy than me."