Cardinals use one of two lives in tournament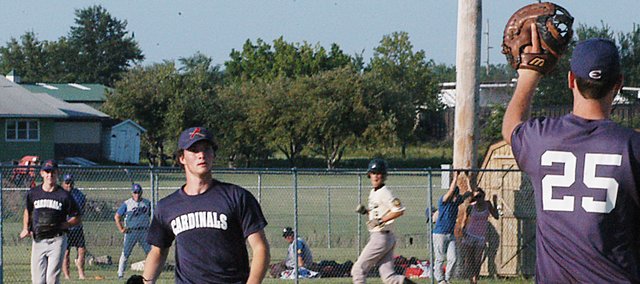 The regular season hasn't been terribly kind to Eudora's summer league baseball team.
Coach Paul Houle's squad came into the Kansas Amateur Baseball Association end-of-season tournament with an 8-12 record after losing eight of their last 12 contests. But the beauty of the postseason is that anything can happen and Eudora further proved that point Tuesday night by twice overcoming three-run deficits to defeat Paola 10-9 in its opening tournament game.
However, the Cardinals failed to recapture the magic in game two and fell to host team Osage City, 13-4.
"You can have a great game one day and then everything just goes sour," Houle said. "You just chalk that up to the crazy game we play."
Game one was a heavyweight bout, to be sure.
The first round went to Paola, which scored three runs off Eudora starting pitcher Zach Bryant before you could count 1-2-3. However, the Cardinals countered with an uppercut to the tune of four runs in the bottom of the first.
Craig Harper drove in Eudora's first run with a groundout, then Bryan Dudley stepped up behind him and knocked in a pair on a double. Mike Bricker capped the inning with a scorching single to bring Dudley across the plate.
In the second inning Derek Scrimsher took the mound and got off to a good start, striking out his first batter. The Panthers adjusted to Scrimsher, though, and took a 7-4 lead into the bottom of the fourth inning.
Kyle Swanson brought the Cardinals closer with a two-out single, but the inning was marred by what could have been as Eudora left the bases loaded.
Paola took back its three-run lead in the fifth and after a scoreless inning, Eudora trailed 8-5 in the bottom of the sixth.
Leadoff man Mack Hartwell singled to start the inning, and then Swanson stepped up and put the team on his shoulders.
"You could tell from his body language that he wasn't going to get beat," Houle said.
Swanson swatted a frozen rope to the right-center gap and chased Hartwell around with a triple.
"That gave us a spark that we really needed at that time," Houle said. "It was the first time all season that someone has come up with a clutch play like that."
Minutes later Swanson scored on a wild pitch, but the excitement was far from over. Now trailing 8-7 with two out and the bases loaded, Tyler Beebe took a 2-1 pitch and dropped it into center field for a two-run single. Jackson Wiley provided the extra insurance run by legging out an infield single.
Wiley's hustle proved pivotal as Paola responded with an infield RBI in the top of the seventh, but couldn't push another run across the plate. A fly ball to center field ended the marathon game at just under two-and-a-half hours.
Houle said that Swanson's heroics proved to the rest of the team that they are capable of digging out of a deficit.
"It was a great thing not only for that game, but also for the rest of the season. We know that we can come back in tough situations," Houle said.
In game two it was the Cardinals who jumped out to an early 3-0 lead.
The first three batters, Hartwell, Swanson and Drew Noble, all scored in the top of the first inning. After watching the first game, Osage City's offense was rested and ready to attack and it hung nine runs on Eudora in the first inning.
Walks and errors were a large part of the problem, but Houle said his coaching was also at fault.
"I'll take a lot of the blame because I didn't figure out how to pitch them quick enough," Houle said. "We were putting them in good situations to hit the ball as opposed to putting us in good situations to get outs."
Osage City also had its troubles in the field but Eudora failed to capitalize and fell 13-4 in five innings.
Though the night ended on a down note, Houle wasn't at all disappointed. His team learned a pair of valuable lessons and they'll have the chance to put them to good use Friday night in Coffeyville.
"Knowing that we can come back and then on the flip side knowing what we have to do to be able to come back are going to be two big lessons that will hopefully help us on Friday," Houle said.
Eudora plays the loser of Burlington vs. Parsons at 4:30 Friday evening as part of the double-elimination tournament.