'

Only One' Cardinal
Cardinals bounce Bishop Ward, smile all the way to state tourney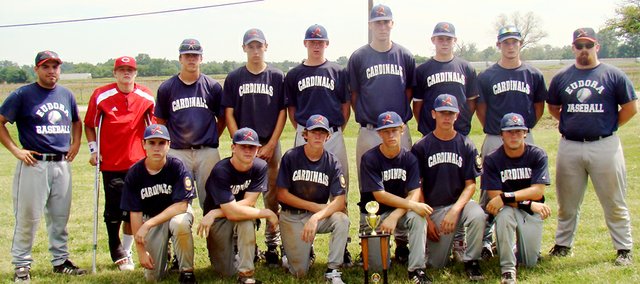 Surpassed expectations are nothing new for Eudora.
Still, the Post No. 14 Cardinals most recent improbable run was capped with an exclamation point that no one may have expected. After dropping its first game of the American Legion AA Zone Tournament, Eudora responded with three wins, the last a 16-5 bombing of Bishop Ward, to advance to its first-ever Legion State Tournament.
"It's kind of surreal," coach Paul Houle said. "I'd be lying if I said I thought we'd be in that situation."
Houle wasn't surprised that his team won the tournament, merely that they won the last game by so much. Indeed, a blowout over a team as dominant as Ward is good reason to double-check the box score, but Eudora almost never made it to that game.
On Wednesday Eudora lost its first game to Pomona, 4-3, and the next day the two teams again hooked up, this time with each team's season on the line.
The Cardinals took an 8-0 lead into the third inning, but Pomona crawled back and tied the game at 11. In the bottom of the seventh with two outs and two runners on base, Mike Bricker stepped to the plate and ripped a game-winning single.
"If he doesn't come up with that hit, then we may never even see Ward," Houle said.
Craig Harper, who scored the winning run against Pomona, started on the mound in the first game against Ward.
"I didn't have my best game, but I felt like I could put the ball in the zone and let my defense make plays behind me," Harper said.
Harper's defense didn't let him down as Eudora scored two runs in the top of the seventh to pick up an 8-7 victory.
Most coaches would have stopped and baffled at how they got the best of Ward, but Houle, a relative newcomer to Kansas high school baseball, just chalked it up as another season-saving win.
"I think I'm really naive to the whole idea of beating Ward," Houle said. "The only thing I was playing against was their reputation. I don't think I've personally grasped the whole thing yet."
Coaches who had been ousted by Ward in both summer and spring baseball for the better part of a decade congratulated Houle on his accomplishment, but he was already preparing for a final showdown with coach Dennis
Hurla's squad.
"I don't know if naivety was a good thing or a bad thing," Houle said, "but I wasn't afraid of them and we went right at them."
The re-match that followed had both teams fighting for their seasons, and it was also a chance for Eudora to exact some revenge. In the first game of regionals this spring, Ward held off a late Eudora charge to win 4-3. The Cardinals stayed home while the Saints went on to win their sixth straight state title.
Fast-forward two months and it's Eudora that's moving on thanks to 10 runs in the top of the seventh inning.
"It was probably the greatest feeling we've ever had," Harper said of the blowout. "They ended our season in the spring so it's only fair we end theirs in the summer."
Houle said that as the seventh inning runs continued to pile up, he and his fellow coaches were left speechless.
"We're sitting there thinking that really no matter what we do, we've won this game," Houle said. "That's an emotion that I had no expectations of feeling."
Eudora still relishes being the underdog and beating teams that it's not supposed to beat, but with that blowout victory the rest of the state tournament field is sure to take notice.
"We're not so much at the top, but now everybody knows who we are," Houle said. "We're not going to creep up on people."
Harper said the team expects to win the tournament, but Houle doesn't want his team to
expect anything.
"When you expect to win you don't play as hard," he said.
Eudora opens its state tournament tomorrow with a 1 p.m. start in Sabetha against Osawatomie, the team it beat en route to a third place finish in the KABA tournament two weeks ago. Expecting a win may be the wrong way to go, so instead Harper said his team should stick to their season-long motto, "Only One."
"That means that 'only one' team smiles at the end of the season and we want that to be us," Harper said. "We kept going with that and now we're in the state tournament so we're still smiling."