Troop 64 has Eagle Scout reunion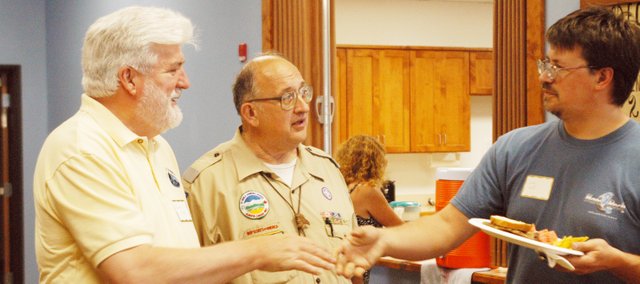 As is typical during the CPA Picnic, people come together to see friends and strengthen old bonds. It was no different Saturday afternoon when Eudora Boy Scout Troop 64 had an Eagle Scout reunion luncheon.
"A lot of times it's the high schools that get together, but this just works good - all of us old Eudora people get together for the CPA," Phillip Everly, who became an Eagle Scout as part of Troop 64 in 1958.
The luncheon also was a commemoration of sorts for Everly, Emmet Wright and Micheal Lenahan, who become Troop 64's first Eagle Scouts 50 years ago.
John Scott, who still is active with Troop 64, became an Eagle Scout in 1959.
Scott, who was one of the organizers of the event, said it great, but also surreal to see everyone together.
Scott and Wright talked about how far Troop 64 had come, as it first met in Pete Lawson's garage, but now meets at the Eudora Community Learning Center.
"There wasn't a lot to do back then, so scouting was an important part of life," Wright said.
Wright, who was a professor of environmental science at Kansas State University but now is working with the Globe Program, reflected back on his time in the Scouts as time that shaped the person he would become.
"I think that my interest in science and the environment - it all started with the Scouts," Wright said. "I have to give them credit for that."
More like this story