Weldon to increase monthly rates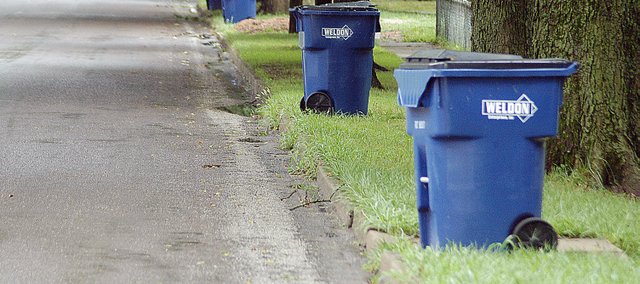 The Eudora City Council Monday approved a price adjustment in the contract of Weldon Enterprises caused by rising fuel costs.
Prices will increase by $1.25 per month, or 11 percent.
The contract Weldon signed with the city in September 2007 allowed for adjustments to be made as a result of increases in energy prices.
"As you are no doubt aware, fuel prices continue to spiral to historic levels," Randy Weldon wrote in a letter to council members. "Weldon Enterprises Inc. has acted in good faith to resist seeking relief as long as we could."
Weldon also addressed the council and stated the company has seen a
63 percent increase in diesel fuel since the contract was signed.
"This is the first time in 30 years of doing business with Eudora that we've come in during a contract to ask for anything like this," Weldon said. "It's just kind of extraordinary circumstances that everybody is facing."
Weldon suggested a sliding scale depending upon fuel prices, but City Administrator Cheryl Beatty said it could cause more problems.
"I will tell you from experience that doing a sliding scale is a nightmare," she said. "Number one, it's more work for your clerks and number two, your customers won't understand it."
As the owner of Pyle Meat, Mayor Tom Pyle said he understood the need for the price adjustment because he has seen similar price increases from companies that make deliveries to and for his business.
"Nobody wants to pay more, but I don't think your prices are too outlandish," Pyle said.
City Administrator Cheryl Beatty clarified the fact with Weldon and the council that if prices fall, the contract still can be readjusted.
Beatty later said the price increase is indicative of several industries that are dealing with spiking fuel costs.
City Attorney David Waters will draft a new ordinance for the rate increase, and Weldon will take similar requests for rate increases to De Soto and Tonganoxie.