Tracksters overcome malevolent spring weather, qualify 13 entries for state meet and return large junior group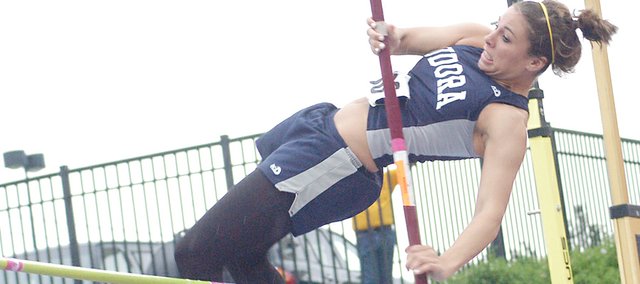 Despite dealing with hazardous weather throughout most of the year, 2008 was a history-making season for the Eudora track and field team.
Two school records were re-set and one athlete completed a quartet of titles at state, all in the face of adverse conditions for much of the season.
"The weather was so unpredictable and it really caused a lot of problems with workouts and having to reschedule meets," coach Phil Katzenmeier said. "That really threw a bit of a wrench into our routine."
Still, most of the teams across at least the eastern half of Kansas faced similar postponements. In the end, Katzenmeier said, the weather created slower times and shorter marks but nothing too extreme.
In fact, stormy skies were nothing but a distant memory on the sunny afternoon of the regional meet.
Katzenmeier said a good way to judge a track team's success, in the absence of a win-loss record, is to see how it does at the league, regional and state meets. The Cardinals were solid at the Frontier League meet, but they really excelled with state berths on the line at regionals in Ottawa.
"We did as well as we could've at the end of the year and I feel pretty good about that," Katzenmeier said.
Eudora qualified 13 events for the state meet, including junior Allison Hoover in the pole vault with a school record height of 10 feet. More than that, senior Jordan Katzfey leaped a school record 42-9.75 in the triple jump but failed to qualify for state by finishing sixth. Hoover would meet a similar fate at state, where she broke her own record by clearing 10-6 but finished outside of the medal positions.
"It was incredible that she didn't place, and Jordan had by far the toughest regional for the boy's triple jump," Katzenmeier said. "That was a tough break for him at regional and a tough break for Allison at state."
Eudora sent multiple athletes to Wichita for the state meet, but one was on more of a mission than any other. Senior Emily Ballock's quest for a fourth straight 300-meter hurdle crown was successful, and she graduates as arguably the greatest track athlete in Eudora history.
"She did so many things so well," Katzenmeier said. "You can't say enough about her. Having a four-time state champ is pretty incredible. Those are pretty rare."
In honor of her accomplishments Ballock was named the Metro girls track athlete of the year and Eudora's Most Valuable Athlete.
Katzenmeier also handed out an award for the Most Improved Athlete, splitting the honor between Katzfey and junior Kendal Abel. Katzfey's improvement in the triple jump this season was rewarded, and he also helped the boys 400-meter relay qualify for state.
Also graduating with Ballock and Katzfey are Catherine Weyde and Dustin True. All four have left their own mark on the Eudora track and field program.
"I enjoyed being around all four of the kids, and it was just a pleasure to be with them everyday," Katzenmeier said. "I think that's as big a thing as how they perform athletically, is how they are as human beings. They were just being good people and I really appreciate that."
The girls team has enjoyed much more success than the boys in recent years (thanks in no small part to Ballock), but Katzenmeier thinks things will even out in 2009.
"Boys tend to peak late and we've got a strong junior class that's going to continue to get better," Katzenmeier said.
There are currently 17 juniors on Katzenmeier's roster (nine girls and eight boys) and eight of them have state experience. That kind of leadership could make things very interesting in 2009.
"There's always a lot of dynamics involved, especially when you start looking at relays and changes that may occur," Katzenmeier said.
Still, there's one reason Katzenmeier is eager to get next season underway.
"Our junior class is really the thing I'm looking forward to because there's a lot of good kids and a lot of good athletes in that group," Katzenmeier said. "We'll build our team around their talent and their abilities."
More like this story