Camp exceeds school district's expectations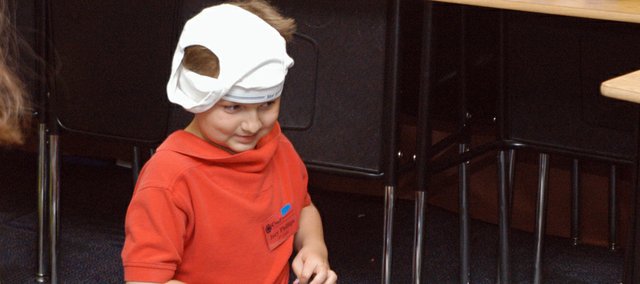 Although last week's inclement weather hindered the activities of some, it wasn't even a blip on the radar for 70 students at West Elementary School who were taking part in Camp Invention.
Students entering first through sixth grade were eligible to attend the program, which provided students with the opportunity to learn about scientific principles through invention. The camp featured activities that focused on creativity, problem solving and teamwork. For instance, students - who were grouped by grade levels and came from Eudora, Lawrence, Wellsville and Olathe - designed and created models for amusement park rides; crash-landed on an alien planet and had to figure out a way to get home.
The program was funded completely by the price of student enrollment - which was between $185 and $205 depending upon when students signed up - and by a $5,000 grant from the Douglas County Community Foundation that provided scholarships for about 50 students.
Barbie Hartwell, who teaches gifted students at West Elementary, was the director of the program. Helping Hartwell were five teachers from Eudora USD 491, 10 Eudora High School students and eight Eudora Middle School students.
Because this is the first year the program has been in Eudora, Hartwell said the days preceding the program were a bit like the first time she ever taught because she didn't know what to expect or how things would run.
The kids also came in a bit dour because it was like returning to school, which had just ended about two weeks ago. But it didn't take long for them to begin to enjoy the activities.
"By the end of the first day they realized this wasn't school," Hartwell said. "They are getting to do things that they didn't have a chance to do in the regular classroom just because of time constraints and sticking to the standards. They're getting to learn a lot of the scientific principles in a different way than they would in the classroom."
The students weren't the only ones who benefited from the curriculum.
Nottingham Elementary School first-grade teacher Becky Topil was in charge of Imagination Point, which incorporated physics principles in charging students with building roller coasters.
She said she would adapt the program's curriculum to fit her classroom.
"I have a science unit with motion and I plan to use some of these ideas for sure," Topil said.
She also said the total immersion in all things scientific allowed students to improve their scientific vocabulary, causing them to talk to each other in the context of Newton's three laws of motion.
Susan Schiffelbein, who teaches creative writing at West Elementary School, was the facilitator on the Planet Zak, where students had to work together to figure out how to get off of the planet.
Schifflebein also said it was a growing experience.
"It has stretched me as an educator for sure and made me come out of my comfort zone," she said.
At the commencement of the program Friday, kids showed their parents what they had accomplished during the week.
Paul Thevarajoo had three children participate in the program - two as campers and one as a counselor. He said that all three would come home and excitedly talk about the program each day.
"They had a chance to do something that they normally wouldn't at home, and that was really great for them," he said.
His daughter Jasmine said she loved everything about the program and looked forward to attending again next year. While she learned many scientific principles, she also learned that failure isn't always a bad thing when you are experimenting with
inventions.
"It helped us rebuild things and get it right," she said.
As EHS sophomore and camp counselor Anthony Mersmann watched students demonstrate how their roller coasters would work, he reflected the fact that he got just as much out of the camp as the students did.
"I've worked with kids before but never really as a counselor, and I liked having an effect on their lives," Mersmann said. It was fun to show them how to do things and watch them invent and be creative with their ideas."
Hartwell said that though there opportunities for sports enrichment, there aren't opportunities for students to experiment and learn in the manner afforded them by the Camp Invention.
"We have a programs to get kids ready to come back to school and we have tutoring, but there's nothing to enrich them and push them beyond their boundaries," she said.
Interim Superintendent of Schools Don Grosdidier said the reason for the lack of enrichment programs was that federal No Child Left Behind initiatives don't allow funding for enrichment. Since Camp Invention didn't need any funding from the school district, it was the perfect chance to provide more learning experiences for area students.
"One of the downsides is that so much emphasis is put on remediation and getting everybody up to standard that sometimes we lose opportunities to provide programs like this for enrichment," he said.
"Being able to work with the Douglas County Community Foundation to help fund this was a great benefit to all of us and we feel very good about the number of kids who were able to attend and the diversity of kids we were able to attract. It was a win-win for everybody."