An early summer success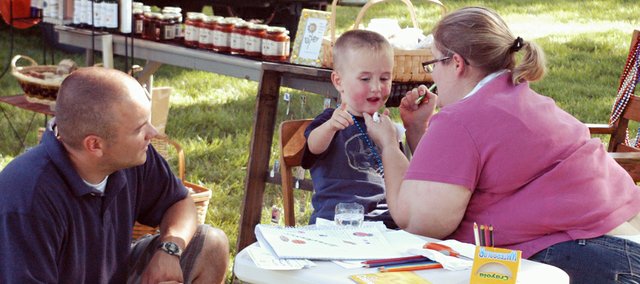 Members of the Eudora Chamber of Commerce did not know what to expect when they planned an event called "Summer in the Park."
They weren't sure how many people would attend or if the weather - which had been rife throughout the week with watches and warnings - would even allow for an outdoor event to take place.
But after over 200 people came to listen to three bands Friday night at CPA Park, it was clear the event was a success.
"I'm more than happy with the turnout," Chamber member David Alvarez said. "The weather was perfect and the people just appeared at 6 o'clock."
The decision to organize the event came after nearly four months of talks to develops events in downtown Eudora to support businesses in the area during the construction set to begin in mid-June and continue during the summer.
"People brought their lawn chairs, the kids are here having a great time - it's really just what I wanted," Alvarez said.
Scott Keltner, who brought his two young daughters to the event, was glad to be able to stay in town.
"With a couple of kids, it's great to just go a mile-and-a-half instead of packing a daypack and getting snacks and everything," Keltner said. "With this, I can just grab a bottle and go. The convenience factor for me is great."
Gambino's Pizza, Pyle Meat and Coffee Talk, which is owned by Alvarez, were vendors at the concert.
Alvarez, who had tempered his expectations for the event, was hoping to see about 100 people in attendance.
"It was an unknown," Alvarez said. "I wasn't even sure how many bierocks to bring. We're just looking forward to the next one now."
The intent of the Chamber is to have events once a month at the park during the warmer months.
"We just want to give people more things to do," Alvarez said. "We've got this park right here and now we're starting to think down the line because of the way this concert has gone."
Chamber President Doug Mateo said future events could be art festivals, movies in the park and a citywide barbecue contest.
"It was a fantastic turnout," Chamber President Doug Mateo said. "This was our first venture and we got this kind of turnout - just think about the next one. We'll try to make it a little bigger each time."
The next concert will be July 11 and feature bluegrass music.
For more information, go to www.eudorachamber.com.
More like this story