Delayed construction doesn't slow
DEBA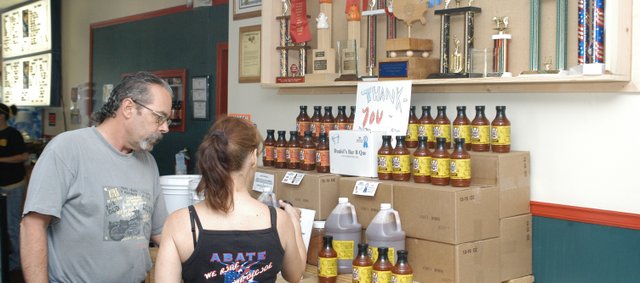 The long-anticipated downtown beautification project may start a month later than hoped.
On Monday, City Administrator Cheryl Beatty told members of the Downtown Eudora Business Association the project could start as late as mid-July.
Beatty had hoped to learn a more definitive construction timeline last week for the project to beautify Main Street from 6th street to 10th street.
However, representatives with Lawrence-based construction company RD Johnson Excavating Inc. told Eudora city officials it did not plan on starting the downtown renovation project for 30 days.
Beatty said she told them the city wanted the project to start in June and that they needed to produce a timeline.
But the delay in construction will not derail the activities the DEBA has planned, the first of which being a treasure hunt that is set to begin Tuesday.
A secret item will be placed in a box. Participants in the treasure hunt will be given a series of clues and then will have to guess what is in the box.
Clues about the item will be posted at Kaw Valley Bank, Broers Flower Shop, Jasmin Restaurant, Madame Hatter's Tea Room, Coffee Talk, Cutter's Smokehouse and Pub, DC Custom Cycles, Daniel's BBQ and Stable System Solutions.
Clues also will be broadcast on radio station 92.9 KMXN.
Guess cards will be available at the businesses.
KMXN will do a live broadcast at CPA Park on July 31 to announce the winner. All guesses will be placed in a box and the first correct guess drawn will win.
The treasure hunt prize will be $500.
All participants must be at least 18 years old and cannot work for or be related to any employees of the businesses that participate.
"We wanted to do something to make people aware of what's in downtown and bring more traffic down during the construction process," DEBA member and co-owner of DC Custom Cycles Matt Montgomery said.
Though he's certainly not happy about the price of gas, Montgomery said it's all the more reason for people to support downtown businesses.
"Eudora's got a lot to offer," he said. "We've got two barbecue restaurants, a coffee shop, two banks, a liquor store - it's gotten a little more diverse and there are things to attract people of all ages."
The DEBA also is moving forward with its plans to have a barbecue competition and music festival Sept. 12-14.
Daniel Hipsher, owner of Daniel's BBQ, hopes to get the event sanctioned by the Kansas City Barbecue Society and attract as many as 34 teams.
DC Custom Cycles has begun a search for bands to play at the event.
Though construction most likely will not finish in September and could run into late October, members of the DEBA think it will be a successful event.