Ward plays the part of spoiler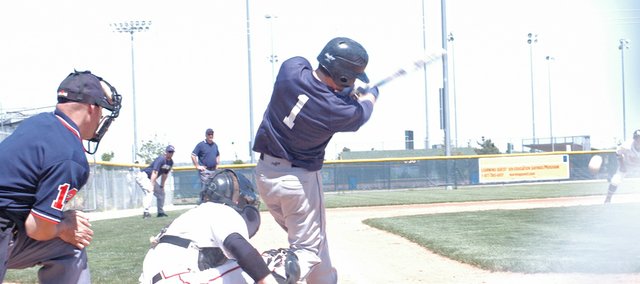 The Cardinals decided to make things interesting trailing 4-0 with two outs in what turned out to be their last game of the season.
Eudora struggled against Bishop Ward's top pitcher all night, but in the bottom of the seventh its offense came alive and staged a dramatic comeback. However, just as the game actually seemed in reach, the Cardinals were dropped back to reality and fell 4-3 to the Cyclones in the first round of the regional tournament.
The nearly colossal comeback left several of Eudora's players at a loss.
"I can't put that into words," senior Matthew Abel said. "We're down 4-0, we could have just as easily quit and gave up there, but that's just the kind of team we are. We're not going to give up, at all."
"I don't even know what to say about that. Our seniors, I mean it all started with taking a pitch and getting on base," Kyle Swanson said. "That's what all coaches want, and you want to play with those guys, they are going to go to war."
Bishop Ward, the five-time defending state champion in 4A, threw its best pitcher at Eudora, a move, according to Eudora coach Shaun Edmondson, which meant it wasn't going to take the Cardinals lightly. Still, the Cyclone hurler didn't intimidate Eudora's hitters.
"I don't know if it was more him being effective or us being defective," Swanson said. "He threw straight fastballs, and he was their ace, but I didn't see anything that funky. He just hit his spots, I guess."
After the first two Eudora batters recorded outs, sophomore Evan Cleveland led off the seventh inning rally by getting hit by a pitch.
Cleveland stole second base and pinch hitter Zach Bryant drew a walk to the vacant bag. Then, like he's done several times this year, Edmondson sent both runners on a double steal and both slid in safe.
Next up was Abel, who crushed a double to deep left center field to bring both runners around to score and bring his team within two. Abel stole third base and senior Chad Krutz stepped up and knocked the ball to right field for a single to bring Abel across the plate.
It seemed impossible when Cleveland went to bat with two outs earlier in the inning, but senior pitcher Brian White stepped up to the plate representing the winning run. White and the Cyclone reliever battled for awhile with White working the count full.
However, the improbable dream came to an end when White hit a groundball to the shortstop and was thrown out at first.
"There's a lot to be said about a team when you have a situation where it's nobody on, two outs, last inning," Edmondson said. "That's what makes it special is that we were able to finish the way we did, it shows a lot about the character of the team."
Although White couldn't come through in the seventh at the plate, he did more than enough on the mound. White scattered Bishop Ward's four runs and not all of them were earned.
"He was what we expected," Edmondson said. "He's our ace and he got the ball in that situation for that reason. He pitched out of some jams and did a tremendous job. He threw all three pitches for strikes consistently and kept them off balance.
"You've got to give him a lot of credit, he was awesome."
With all of the excitement over their seventh inning rally, it was easy to forget that falling one run short meant the Cardinals season was over. In Edmondson's first season at Eudora, he brought an exciting style of baseball and in his first postseason nearly took down a baseball powerhouse.
"We did what we do best, stole some bases and ran a little bit," Edmondson said. "Overall, it was a very good effort, and it always stinks to end your season, especially because it's so fun to be around these guys."