Track team takes 18 to compete at state meet at Wichita State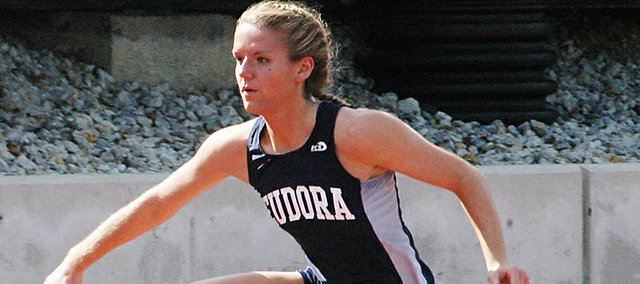 Every mile ran or javelin thrown in the past year has built up to this one meet. Eudora track athletes, 18 of them, will travel Friday and Saturday to Wichita State University for the 2008 state meet.
Before last Friday's regional meet at Ottawa, coach Phil Katzenmeier estimated that in a best-case scenario, his team could send 15 or 16 athletes to state.
"I was counting up the possibilities, and we exceeded even that," Katzenmeier said.
To call the regional meet a success for the Cardinals simply doesn't do it justice. Eudora qualified in 13 events, winning three of them, and set two new school records.
"Everybody who we felt like they could get to state did, and that's a big deal," Katzenmeier said.
Last year as a freshman, Justin Ballock was the only boy from Eudora to make it to state. This time around Ballock again qualified for the 100-meter hurdles and will be joined by junior Mike White in the 100 and the 400 relay team.
The relay team, which consists of Ryan Fisher, Ryan Mendel, Jordan Katzfey and White, has been getting a little better at each meet, and broke out Friday for a second place time of 44.92 seconds.
"This is a big step for our boys, and that kind of made my day when those guys qualified," Katzenmeier said.
While the boys were taking leaps forward, the girls technically took a step back, though you wouldn't know it to look at them.
As a team the girls finished in second place at regionals, 4.2 points behind first place Baldwin. It's the first time a team with Emily Ballock on it has finished outside of first at regionals, but the senior qualified in four events.
Ballock, the three-time defending state champion in the 300 hurdles, will try and add a fourth title in that event, as well as gunning for gold in the 100 hurdles, and both the 1,600 and 3,200 relays.
Ballock admitted to having some mixed emotions about her final trip to state.
"Obviously this one is the most important one because I want to go out on top," Ballock said. "I just want to go hard, run my best race. I know that if I take care of things I can come out on top."
Ballock is a veteran of big meets, but her teammates in the 3,200 relay consist of three wide-eyed freshmen.
"My job is to keep them focused and ready to go," Ballock said. "They have to keep their nerves down and treat it like any other meet."
That's much easier said than done, Katzenmeier said. He described state as, "a whole different ball game."
"Sometimes it's just one-on-one, gutting it out to get that last spot for the finals."
The 3,200 relay, Allison Hoover in the pole vault and Kendal Abel in both the javelin and long jump are automatically in the finals. Everyone else must run in a preliminary race, and for some a close miss last year serves as extra motivation to get it right this season.
"I'm really happy that I got to make it to state, and I want to do better this year," Alisha Wingebach, who qualified in the 100, said. "Last year I missed the finals by one one-hundredth of a second."
Wingebach is also the leadoff in the girls 400 relay, which has been victorious in every race this season after finishing second at state last year.
"The 100 is a warm-up for the 400 relay and I feel very strong about that race," Wingebach said. "We want to get first this year, we won't settle for second."
Katzenmeier said that everyone would be disappointed if Ballock failed in her attempt to grab a fourth state title, no one more so than Ballock herself.
Outside of that race, no one is quite sure what to expect out of Eudora. The Cardinals performances could go in any number of different directions, and Katzenmeier said any shortcomings in previous state meets will serve his team well this weekend.
"They'll remember that every moment counts," Katzenmeier said.