Teacher of month can't imagine doing anything else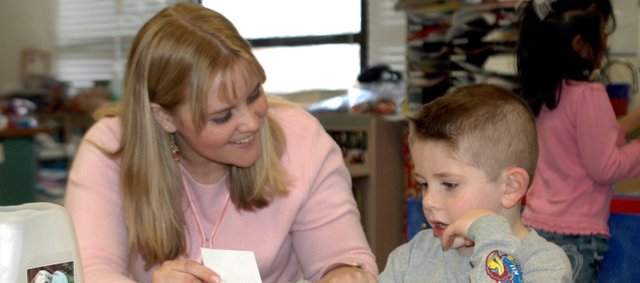 When 5-year-old Nottingham Elementary School kindergartner Eily Ashley was asked what she liked about her teacher Jennifer Sweany, she didn't hesitate to give an answer.
"She teaches me great things," Ashley said.
The teachers of NES agreed with Ashley's assessment and chose Sweany to be November's Eudora Chamber of Commerce's teacher of the month.
The award surprised Sweany, who has been with Eudora USD 491 all six years that she's been a teacher.
"I work with a lot of really wonderful educators, so I was really shocked to get it," Sweany said. "I know there are a lot of teachers in our school district who should also receive this award, but it's a very neat honor."
She also was pleased with the outpouring of support from local businesses in the form of a gift basket.
"It was amazing to me and it just lets you know how much support there is," Sweany said. "It's a rewarding job for us because we see the results of it, but you don't always know that people are aware of what we're doing for the children."
Being a teaching was something that Sweany felt an inexplicable interest in. That interest grew with each experience she had working in classrooms during high school in Rossville and college at Emporia State University.
"It's so rewarding to see the kids when the light bulb goes off and the moment is there when they've got it," Sweany said. "I can't think of anything else I'd rather do, and without teachers, there wouldn't be any otherprofessions out there. You feel like you're making a difference in child's life."
Because she doesn't focus on just one academic subject each day in her classroom, she had more than one subject that is her favorite to teach.
"I really like teaching reading because that's where you see a lot of growth with the kids. But I also like science because at this age the students are so amazed at how everything is happening."
NES principal Jim Lauer said Sweany's abilities with both staff and students made her a good teacher.
"Jennifer has been a great addition to our kindergarten staff — I see her as a team leader for that group," Lauer said. "She's got a positive attitude and a strong personality, which is just phenomenal for the kids and the staff, as well as the parents."
Sweany doesn't plan on going into administration, but still might pursue a graduate degree in curriculum and instruction. However, she said she is more focused on spending time with her 18-month-old daughter, Alaina, and her husband, Dan.
Furthermore, she still is figuring out more about teaching in her own classroom.
"This is only my sixth year, but I'm still amazed at how much I learn every day and every year," Sweany said.