Nonprofit daycare center created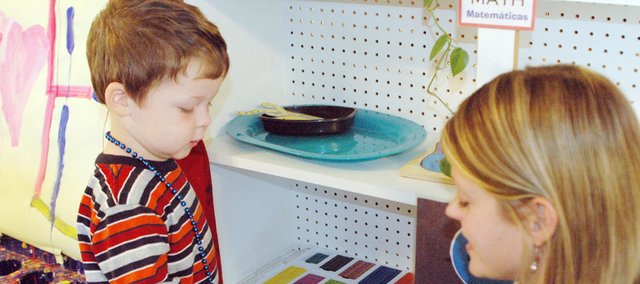 It's nine in the morning and the 12 children at Pyramid Place Early Education Center mill about like ants, each of them working on a specific task independently. Some are coloring at a table, while others clean up activities they're finished with and then move on to new tasks.
The children, whose ages range from 2 to 5 years old, walk up to co-founder and program director Rachel Torkelson and voluntarily offer up nuggets of information ranging from one child's realization that he is wearing stripes or another child's epiphany that the words "camel" and "cat" begin with the same letter.
It's clear this is not the typical preschool or daycare center, and that's how Torkelson and co-founder Jennifer Middleton planned it.
After too many negative experiences while working at daycare centers in the area, Torkelson and Middleton decided to begin their own preschool.
They opened Pyramid Place in May 2007, and it operates out of Torkelson's home.
"As I was growing professionally, I couldn't shake the idea that something had to change," Torkelson said. "I was getting a feel for childcare in America and how it's such a huge issue. People are compromising and taking kids to places they don't like because it's so expensive."
However, the preschool that operates out of her home soon will move to a large space at 1904 20th Street and also will feature an after-school program called the Cardinal Club.
The two women hope to receive licensure from the Kansas Department of Health and Environment by the end of October.
Torkelson also hopes to move the Cardinal Club in summer 2009 to a separate location — possibly in the vacant building immediately to the north of Coffee Talk — in an effort to provide older children an environment as conducive to learning for that age group as the early learning center is to pre-schoolers.
Where Torkelson believes Pyramid differs from most centers is that many places simply offer day care, but Pyramid teaches and develops each child according to that individual's specific needs.
"We believe that children have the innate need to grow and learn on their own, and basically that they are driven to learn and to develop," Torkelson said.
Teachers guide kids through learning by demonstrating lessons, but then allow the kids to practice it to the point of mastery. They also allow independent exploration, which can enhance a child's cognitive abilities.
There are 32 learning centers throughout the preschool and children learn about geography, the senses, geometry, reading, science and other subjects.
They also learn practical life skills, which are essentially tasks people do on any given day and will develop a child's work ethic.
There are also faith-based lessons, though they focus more on morals as opposed to the theological side of things.
It can all seem like a lot to learn in the first couple of days.
"A child who first comes here who was used to a daycare setting that isn't as structured — where they are more entertained versus being educated — they do have a shorter attention span and it takes them a couple of weeks (to adjust)," Torkelson said. "But once they become engaged in what we're doing — and sometimes it only takes that one activity — then their attention span starts to grow."
Stephanie Kacsir, whose daughters Sidney, 3, and Makenna, 5, attend Pyramid, echoed that statement.
"Once our girls started to attend Pyramid, we noticed a huge increase in their excitement to attend school and thus a leap in their education and learning," Kacsir said. "The hands on, practical life learning structure definitely has been resonating well with our children. I have visited the school many times unannounced and every time I enter the room the atmosphere is calm, organized, positive and encouraging."
The atmosphere also is what Jamie Baker enjoys most about Pyramid. Her children Kira, 4, and Gavin, 2, attend the program and she also works at the center in preparation for entering the teaching field.
"What I really liked about here was the structure, and I felt like it was very obvious," Baker said. "I know other places have structure, but here the kids knew what they were supposed to be doing and how they should behave without constant reminders, which told me this was a consistent environment."
Torkelson is licensed by KDHE to be a center director and is in the honors program in KU where she is pursuing a bachelor's degree in behavior modification.
She said having a center with high standards also could help Eudora's economy by drawing families to the area as a result of the availability of quality childcare.
Kascir is evidence of at least one family who embodies that claim.
"When exploring towns to chose as our home, we strongly considered the child care and education system of each town," Kacsir said. "Rachel and Pyramid Preschool are one of the leading reasons we decided to settle down in Eudora."
Eventually, Torkelson hopes to be able to affect public policy in terms of child care because she believes the state standards are too minimal.
"Our primary focus is the child in our care, but we also want to develop a model that works to improve child care," she said.
Until then, she and her staff look forward to receiving licensure and opening their new location.
More like this story