Teacher of the month glad she chose career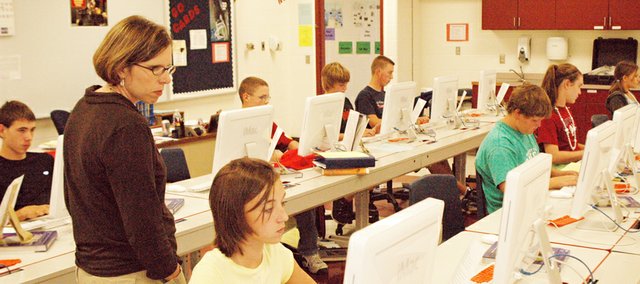 Eudora Middle School keyboarding teacher Beth Zimmerman almost didn't go into teaching. After she finished high school, she planned on going into the business field but a college advisor told her she would be a good teacher.
Last month, Zimmerman's colleagues agreed with that notion and voted her teacher of the month for September.
Zimmerman said she was incredulous upon finding out she had won the award sponsored by the Eudora Chamber of Commerce.
"I was shocked because I work with such great people and so many of them do so much more than I do," Zimmerman said. "I was also honored because this was the first one in our building for this school year."
EMS Principal Richard Proffitt only partly agreed with Zimmerman's statement, saying that there are many excellent teachers at the middle school and throughout the district, but Zimmerman is one of them and she deserved to be honored.
Even while taking classes in college, Zimmerman still wasn't sure that teaching was going to be for her, and her first couple of teaching experiences weren't all that positive. However, she said moving to the Eudora school district changed her outlook.
"I've really found my love in Eudora," Zimmerman said. "In my other two years of teaching, if you would've asked me if I wanted to do it forever I would've said 'no.' But it's been such a great experience here with my coworkers and the kids — I just can't see doing anything else."
Zimmerman has been with the district for six years and said the people — coworkers and students — have made all the difference and that she feels a connection to the community
"The people I work with are so awesome and supportive and they actually care about you," she said. "That's important to me — to know that I have friends at work."
Like many teachers, her motivation for doing a sometimes thankless job is the students she sees on a daily basis.
"The reason I love to come to my job is the kids," Zimmerman said. "One of the things that keeps me going is knowing the kids are dependent on me to be here and teach them."
When she isn't teaching, her family takes up most of her time.
The other kids who are dependent upon her are her two sons, 7-year-old Caleb and
2-year-old Jacob. She and her husband, Steve, spend most of their spare time with their kids, although she hopes to soon add a little more to her days by beginning to coach volleyball and cheerleading.