Volleyball team places 3rd at Wellsville tournament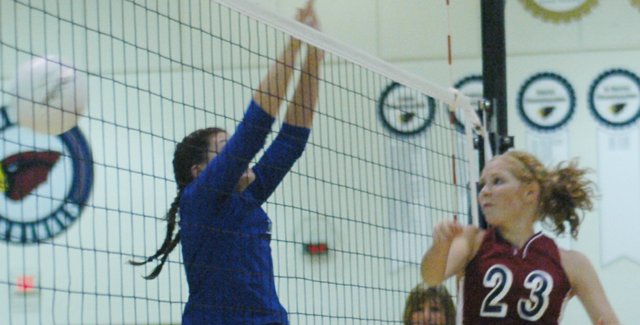 The Eudora Cardinals have certainly shown they can rebound from an early loss this year.
Last week, the Cardinals dropped their first game against Paola but came back to defeat Spring Hill. And on Saturday, the Cardinals fell in two matches to Osage City to begin the Wellsville tournament.
But staying true to form, the Cardinals regrouped and left the tournament with a third place finish.
"We had a rough start against Osage City," Eudora coach Jill Stutler said. "But we came back and were a lot more scrappy the rest of the day."
Eudora lost to Osage City (10-25, 7-25) but then knocked off Kansas City Christian in two matches (25-22, 25-21).
"They had a good middle, but we kind of took her out by serving more aggressively and that got them on their heels," Stutler said.
Eudora then swept Waverly (25-20, 25-22). Eudora later defeated Hiawatha (25-20, 25-20) to earn a berth in the semifinals against Wellsville. But Eudora fell in two matches (12-25, 19-25). Eudora then bounced back from that defeat and beat West Franklin (25-13, 25-15) to finish in third.
"We just battled," Stutler said. "We're still in a situation where we're digging ourselves in a hole early by being down five or seven points early almost every one of the games Saturday.
"But they battled through. We just need to understand we can't do that against good teams like Wellsville."
The Cardinals will enjoy this week off before playing Saturday at the De Soto Spikefest.
Stutler said it would be a good time for the team to get healthy and possibly tinker with the lineup.
"We have this whole week to try a couple of different lineups and get ready for Saturday," she said.
There are only two weeks left in the regular season and Stutler said the team would concentrate on shoring up some of its deficiencies for the stretch run.
"Our main focus for the next two weeks is to minimize the mistakes that we've been making and put ourselves in a position where we're going to be peaking at the right time," Stutler said.