Teacher of the month prepares students for 'global society'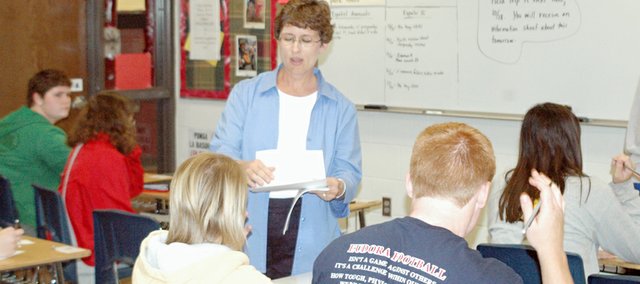 For Eudora High School Spanish teacher Kim Lancaster, teaching Spanish is about more than her students learning that "beber," means "to drink."
"It's all about communication," Lancaster said. "The students who take my class don't care if they can fill in the blank with the correct verb form — they want to be able to speak the language to somebody. So, that's what I've made it all about"
Lancaster's commitment to teaching her students to speak Spanish — as opposed to just being able to fill out worksheets — had a lot to do with her being named the Eudora Chamber of Commerce Teacher of the Month for October.
"Occasionally, there are those days when it seems like your plan doesn't go well, the students aren't responsive and you think 'I'm working really hard and I'm not seeing results,'" Lancaster said. "So, it's nice that someone recognizes that it is hard work. Also, I think it's nice to be recognized in the sense that someone notices you're trying to go above and beyond."
EHS Principal Dale Sample said Lancaster has an amiable way about her that he believes lead directly to rising enrollment numbers in Spanish classes.
"She's student friendly, probably as much as anyone and really takes teaching personally," he said. "She communicates really well with all the kids."
Her innate ability and desire to teach are the result of being part of a family of educators.
"Growing up, I did the teenage thing of helping with Bible school at church and I went to school with my parents on their days off and helped them with things in their classrooms," she said. "So, it was a natural extension of things I did when I was growing up."
Though her students may not need to speak Spanish around town, she knows their world is not limited to Eudora
"I think it (learning another language) opens up your world because we live in a global society," Lancaster said. "When I first went into teaching, I didn't have many students who had been out of the country. But just yesterday, I mentioned Machu Pichu and I had a student who had been there and another who had been to the Aztec ruins in Mexico."
She also believes learning other languages can improve ones understanding that differing cultural viewpoints are simply that — just different, but not bad.
In her Spanish III and IV classes, no English is spoken so that the students will have to use the language in a more conversational manner.
Lancaster realizes that the practice can be intimidating, so she must walk a fine line of being challenging and nurturing at the same time.
"It's a balance," she said." At the very beginning of the year, I try to get them ready for it and let them know the phrases that they are going to hear a lot of. I really work on vocabulary with them so that when we work on a new chapter, it's OK the next day."
When she's not teaching, she and her husband spend their time the same way many parents do — shuttling their two children to and from activities.
"We're in that stage of life," she said. "But you know what? I'm fine with that right now, and when it's over I'll go back to whatever it is I used to do."