Cards beat Bulldogs, but left out of playoffs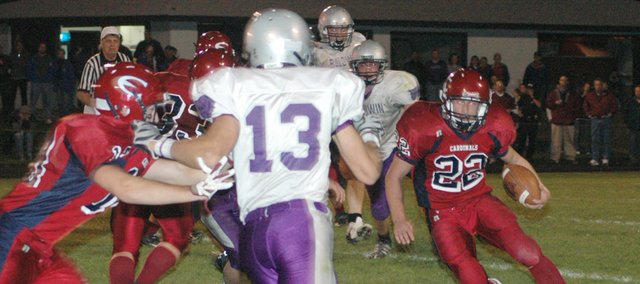 Even in victory, the Eudora Cardinals sat in stunned silence in the locker room after the game. They're 35-28 win over Baldwin on Senior Night was not good enough to get them into the playoffs.
Not good enough by one point. The Cardinals had to win by eight to get in the playoffs, and if they won by 10 points they would be district champs. But they fell one point short.
Late in the fourth quarter, Eudora led 35-21 and drove deep into Baldwin territory and was running out the clock. But a mishandled snap cost Eudora about seven yards and Eudora eventually turned the ball over on downs.
Sam Beecher then went to work through the air for the Bulldogs. He completed five passes and drove the offense to the Cardinals goal line. On fourth and goal from inside the one-yard line, Beecher scored a touchdown with 16 seconds to play, and the PAT sealed the Cardinals fate. They would win the battle, but their season would end.
"Oh, it hurts," Eudora coach Gregg Webb said. "I feel bad for (Ryan) Fisher and Cody (Carlson) and William (Gadberry) and all the seniors who deserve to be playing some more.
"And Tuesday we should have been playing here against De Soto and we could have won our district. But things don't work out."
Behind powerful blocks by Colton Lynch, Cody Carlson and Matt Schultz and the rest of the Cardinals offensive line, Fisher gashed the Baldwin defense on 49 carries for 443 yards and five touchdowns, including an 87-yarder. But it wasn't enough as Eudora ended its season at 4-5 and 2-1 in the district.
For the full story, read Thursday's Eudora News.