Quilters wrapping servicemen with care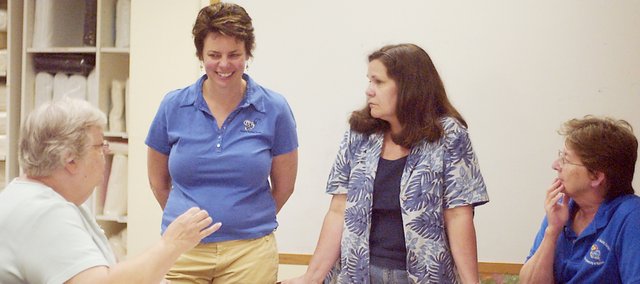 With needle and thread and pieces of fabric, Christine Yoder is on a mission.
Yoder and other members of the Quilting Bees of Eudora are devoting time and energy to comforting U.S. soldiers wounded in Iraq and Afghanistan.
"This is the most rewarding thing I do with my time," Yoder said. "It's something I can do to make a difference."
Since January 2007, the Eudora quilters, working with the Quilts of Valor Foundation, have produced 15 quilts for emotionally or physically wounded soldiers.
The Delaware-based foundation seeks to cover injured service members and veterans with quilts that honor their sacrifice. The quilts, which have become part of homecoming ceremonies at Veterans Administration hospitals across the country, have gone to more than 16,000 soldiers.
Yoder is the organizer of the Eudora chapter of Quilts of Valor, which meets in Quilting Bits and Pieces, 736 Main St., on the first Friday night and the third Monday afternoon of each month.
The quilts they make go to just one soldier and the group can specify in which war the recipient was injured. The quilts typically are patriotic, though some are feminine and can be sent to female veterans.
The first quilt the Eudora chapter made went to a Special Forces soldier in Afghanistan who was the only survivor after his unit was killed in bombing. Though they'll never find out who he is, they received a card from the nurse who cared for him.
Yoder made a point of noting that the U.S. still is at war and it's important to her to not forget that. But she said the foundation had nothing to do with politics.
"This is the real deal," She said. "It's not about whether you're for the war or not, and the biggest comment that comes from soldiers who get the quilts is 'I didn't know anyone cared.'"
While quilt guild members enjoy the fact that they are making a difference, they also have been able to get to know each other a bit better than they would if they only saw each other at guild meetings
"The nice thing about this is we go to quilt guild and sit by each other but we don't do a lot of interacting," Quilts of Valor participant Diane Hendry said. "The guild is more of a business meeting and class. But here, we're all together with one goal in mind."
For Hendry and Peggy Claggett, being involved has been a more emotional experience because both women have members of their families who were in combat. Hendry's son-in-law served in Afghanistan and Claggett's twin daughters fought in Iraq and recently re-enlisted.
"It's nice to know that one of our loved ones didn't have to receive a quilt, but for me Quilts of Valor was therapeutic and something that I need to do," Hendry said.
Claggett said it was a way for her to pay back the people who kept her daughters safe.
"It's hard for all of us watch someone in our group go through that, so there's support there too and that hopefully is helpful," Yoder said.
While there are just five women who were present on a recent Friday night many others, they said, have helped even though they weren't always at the meetings.
Some stay at home and do work, while others have donated money for materials.
Quilting is not a cheap hobby, - Yoder estimated the value of each quilt to be about $300 - and the quality of Quilts of Valor must withstand numerous washings at hospitals.
As a result, members of the Quilting Bees donate fabric or will pay for open tickets that Yoder has at the quilt store. Yoder's 10-year-old daughter has even come in to iron pieces of fabric.
Yoder said any donations of time, materials or funds would be greatly appreciated and encouraged those interested to call her at 542-1366.
For more information about the Quilts of Valor Foundation, go to www.qovf.org