Eudora wins shootout over De Soto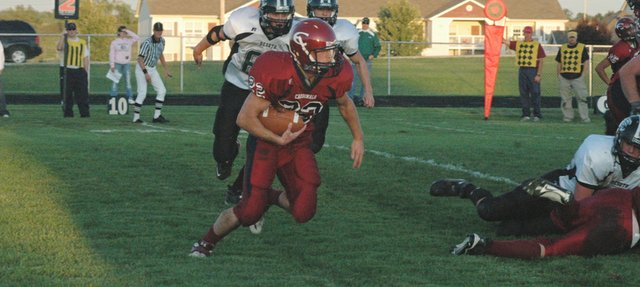 It was nearly a repeat of last week all over again for Eudora. Having basically given the game away against Spring Hill, Eudora nearly did it again Monday night. But this time Eudora made the plays at the end and won a 33-36 thriller over De Soto at Law Field.
Clinging to a one-point lead in the fourth, Eudora committed a turnover and De Soto had the ball inside the Cardinals' 10-yard line ready to score. But William Gadberry recovered a De Soto fumble with less than a minute to go. Eudora then drove down the field, riding the legs of Ryan Fisher. Fisher had 44 carries for 306 yards and two touchdowns on the night. Fisher's final run set up Eudora inside the De Soto 10-yard line, but Fisher injured his shoulder and was helped off the field.
Facing a fourth-and-one, Eudora coach Gregg Webb sent the field goal team out to win the game and Bryan Kindle connected on a 24-yard field goal to give Eudora (1-1) the win.
"We had the game, we lost the game, and then we won the game," Webb said.
For the full story read Thursday's Eudora News.