Eight is enough
Cardinals top Thunder, 8-6, in season opener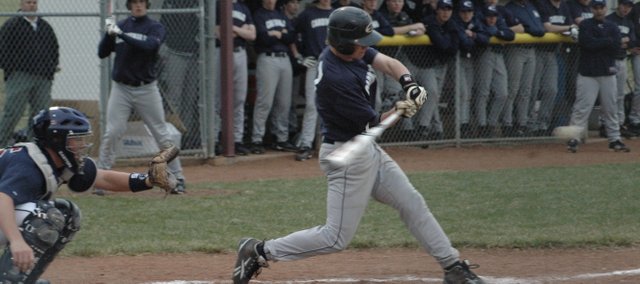 Bryan Kindle had waited far too long for this opportunity.
It had been two long years since Kindle last played in a baseball game for Eudora, and on Thursday he made the most of his return to the diamond.
Kindle, who missed all of last season with an arm injury, smashed a three-run double in the bottom of the fifth that gave the Cardinals the lead for good, and Eudora topped St. James, 8-6, in its season opener.
"He's a good player," Eudora coach Shaun Edmondson said of Kindle. "He plays extremely hard. He's a leader and the guys follow him. He's a lot about what we're about as a team. It was neat to see him get up there and get that big hit. I got choked up a little bit when I saw that, knowing the adversity he's been through."
Kindle also scooped up a low throw at first base in the top of the seventh that prevented two St. James runners from advancing 90 feet. The Thunder loaded the bases and scored two runs in the inning, but Eudora's Bryan Dudley got the final out and recorded the save.
Craig Harper started for Eudora and gave up three runs in the first inning. When Harper had reached his 40-pitch limit, 6-foot-6 hurler Michael Bricker took the mound. Bricker pitched three innings of scoreless ball, gave up just two hits and got the victory.
"My change up warmed up and that was a really good pitch at 0-2," Bricker said. "I need to work on that curve ball, but it was a pretty good outing today. I threw a lot of strikes and that's what you've got to do."
Lefty Derek Scrimsher followed Bricker and pitched 2 1/3 innings and fanned three batters. Drew Noble relieved Scrimsher in the seventh and recorded a strikeout and a walk that loaded the bases. Dudley then walked in a run, but struck out the final batter to end the game, which was played under dreary skies and rain.
The rain seemed to slow both teams down a bit on the bases, but Eudora showed great patience at the plate and walked to first 12 times.
"That's kind of our philosophy," Edmondson said. "We want them to make pitches against us. We feel confident hitting in any count, whether it's one strike, two strikes or no strikes it doesn't matter. We did a really good job of that setting the table and had some guys get big hits."
Noble had a single and two RBIs in the first inning, and Zach Bryant followed Kindle's smash in the fifth with one of his own, a two-run double that gave Eudora an 8-4 lead. Bryant also walked three times and scored three runs.
"I think more than anything we executed our offensive philosophy as far as getting a big inning to occur," Edmondson said. "Guys had a good approach. Their pitcher struggled a little bit with finding the zone, and a good-hitting team will allow that to work in their advantage, and that's what we were able to do today."
Eudora (1-0) will play its first road contest of the year Thursday at Gardner. First pitch of the doubleheader is at 4:30 p.m.