Ability to relate a strength for
EHS

teacher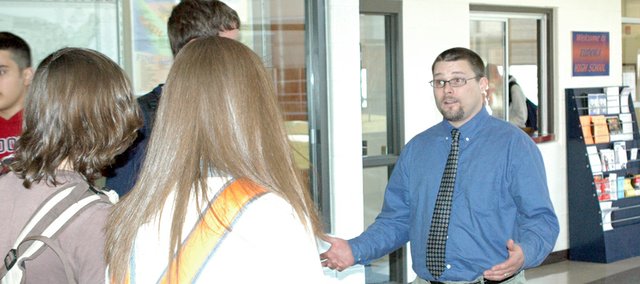 Eudora High School instructor Erik Peltzman didn't initially want to be a teacher. In fact, he didn't even want to go to college. But after a talk with his father, he decided to go to college and become a pediatrician because he wanted his work to make a difference in the lives of others.
Though he didn't become a doctor, he has made a difference. His fellow teachers noted this in voting him the Eudora Chamber of Commerce's Teacher of the Month for March.
"I got a 'see me' email from my boss (EHS Principal Dale Sample), and sometimes those aren't great news," Peltzman said, recounting how he was informed about the award. "So, I was very thrilled when I walked in and discovered it was good news.
"And I was very touched that my colleagues thought I was doing a good job — and not just a few of them, but enough that I won and award."
He also said he was pleased with the outpouring of support from the businesses in the chamber.
Peltzman, who has been teaching in Eudora for all 10 or so years in his career, discovered teaching while visiting with his guidance counselor's young son in her office at Kansas University.
He spoke to the boy about the different hands on the clock and how he understood that it was a difficult thing to learn.
"Through that process of me talking to him, I guess he learned to tell time on the clock," Peltzman said. "I didn't really think anything of the conversation, but a year later when I came to my counselor and told her I didn't want to go into medicine, she said, 'You know, you really got though to my son on something that we really struggled to do. I think you have a gift for education.'
"That hit home with me and fit with my pattern of wanting to do something with my life."
Peltzman teaches a freshman orientation class to at-risk students and he also teaches a study skills class. EHS Principal Dale Sample said Peltzman's ability to relate to his students, as well as many other traits, make him the perfect teacher for the classes.
"It's a unique position for a unique individual, and Erik fits the bill," Sample said. "There aren't many teachers on our staff, including myself, that would be able to do what he does."
Pelztman's own childhood struggles with dyslexia allow him to understand some of his students' struggles.
"I was socially mature, but not book smart so it was really easy for me to remember those times and what a struggle it was," Peltzman said. "Being able to overcome those struggles has helped me relate to the kids. Having that empathy has helped a lot."
In the end, it's all about getting his students to live up to their potential, but it starts with the small victories and the progression of a good day to — hopefully — a good year.
"My greatest reward is probably when a kid comes up to me at the end of the year and says, 'I did it. I passed all my classes and I got all Bs,'" Peltzman said. "I've been a little misty-eyed when I get home and I think about this kid who wouldn't do anything and now he's had a good week or year."
And while Pelztman is proud of what he's been able to accomplish with students during his career, he said he owes it all to the same people who voted for him to win the award.
"I'm not so vain to think that I'm successful because of me; I'm successful because of everybody else here," he said. "I really do think that this high school and this district have a very good group of teachers who are passionate and want to help every kid to learn."